China's Hu meets Congress critics amid economic fears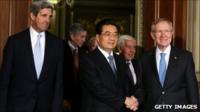 Chinese President Hu Jintao has met leading US politicians and heard their concerns over a host of issues.
Republican House Speaker John Boehner said he had raised the need for tougher intellectual property protections and improved human rights.
Congress leaders have contended that China's currency, the yuan, is being kept low to help China's exporters.
Speaking later to business leaders, Mr Hu said US-China relationships had unprecedented "breadth and depth".
The Chinese president declared that the global financial crisis was "receding" and that joint economic prospects were now brighter.
His speech came a day after Mr Hu had White House talks with US President Barack Obama in which he admitted China still needed to do "a lot" over human rights.
The two leaders also pledged to work together on the yuan dispute.
Export deals
On the third day of his four-day US visit, the Chinese president held separate talks with Mr Boehner and Harry Reid, the Democratic Senate majority leader.
In a statement, Mr Boehner said he had raised "our strong, ongoing concerns with reports of human rights violations in China".
Both Mr Boehner and Mr Reid turned down invitations to Wednesday's White House dinner in the Chinese leader' honour, with Mr Reid going so far as to call Mr Hu "a dictator" in a TV interview, before retracting the remark.
Mr Hu is also set to meet some of America's most powerful business leaders from firms like General Electric, Coca-cola and Boeing before heading to Chicago for business-focused meetings.
Newly released figures show China's GDP grew by a faster-than-expected 10.3% in 2010.
BBC economics correspondent Andrew Walker said that at current growth rates, China could surpass the US as the world's largest economy during the next decade - although average living standards will still be much lower.
On Wednesday, Mr Obama said China was a top market for American exports, supporting nearly a half a million US jobs, but said the yuan's value must be driven by the market.
Since 2005, US politicians have threatened legislation that would impose duties on Chinese goods to offset currency policies they say keep China's exports artificially cheap.
Although they have not passed a law on the issue, 84 lawmakers wrote to Mr Obama ahead of Mr Hu's visit urging him to stress that US patience was near an end on the issue.
Trade between the US and China is worth $400bn (£250bn), up from $100m 30 years ago, when the US formalised relations with the communist state.
China also holds the world's largest foreign currency reserves at $2.85tn and a major share of US government debt.
On Wednesday, US officials said a $45bn export deal had been signed with China, including Beijing's $19bn purchase of 200 Boeing aircraft, which Mr Obama said would help create more than 200,000 jobs in the US.
Figures published by China's National Bureau of Statistics on Thursday revealed inflation eased to 4.6% in December from a 28-month high of 5.1% the month before, as food price pressures waned.
Aware of the unrest sparked by past periods of high inflation, China's leaders make curbing it a priority, raising interest rates twice in the past four months as well as raising banks' required reserves in a bid to control food and housing costs.
The yuan has strengthened 0.8% against the dollar in recent days, although this may be politically motivated to coincide with Mr Hu's US visit.
Opulent affair
After a day including a White House welcoming ceremony, meetings and the joint press conference with Mr Obama, Mr Hu was feted at a star-studded White House state dinner on Wednesday.
He said China was willing to continue a conversation about human rights on the basis of mutual respect and non-interference in China's internal affairs.
"China is a developing country with a huge population and also a developing country in a crucial stage of reform," he said.
Mr Hu added that China "faces many challenges in social and economic development. A lot still needs to be done in China on human rights".
China usually defines human rights in terms of improving people's living standards, rather than civil liberties.
Mr Obama admitted that differences on human rights issues were "occasionally a source of tension" between the US and China.
"I believe part of justice and part of human rights is people being able to make a living and having enough to eat and having shelter and having electricity," he said.
He said he saw China's "peaceful rise" as good for the United States and that the US and China would be more prosperous and secure when they worked together.
The two leaders' talks tackled issues from currency and trade to defence and security.
The US is encouraging China to buy tens of billions of dollars of aircraft, car parts, agricultural goods and beef.
The Chinese president's visit is likely to be Mr Hu's last state trip to the US before a handover of power is completed in China in 2013.