Scars remain five years after Katrina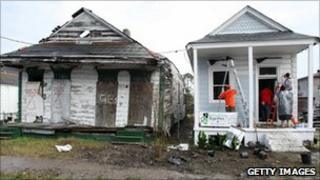 An anniversary can sometimes be a painful time.
That is true in the case of New Orleans, a city that was left in ruins when levees broke and raging floodwaters washed away the lives and homes of so many.
On Sunday this city will remember Hurricane Katrina, and it will reflect on just how much progress has been made in the years that have followed.
"We're very blessed to have the people who came to work on our house," says Semiko Alexander whose home in Saint Bernard's Parish has just been rebuilt by a group of volunteers from a non-profit organisation.
She can now move in to her new home with her two children and father after spending years moving from state to state like so many others.
"I don't complain no more about life I just live, free and happy," said Ms Alexander.
Semiko is one of the lucky ones. She somehow persevered, showed incredible patience but always believed she would return.
Returning home
Former residents have been slowly coming back over the past five years.
New Orleans now has around 86% of its pre-Katrina population back, but for many it is still a struggle.
If you ask the residents of the Lower Ninth Ward whether the Big Easy has recovered since Katrina, they are quick to answer.
"We've been forgotten about," says 60-year-old George Brookes, who was raised in this once proud working class neighbourhood.
"It's hard to get street lights down here, it's hard to get police patrols like we had before the flood," he says.
Mr Brookes is slowly, and when he can afford it, rebuilding his family home.
But the Lower Ninth Ward remains for the most part deserted - less than a quarter of the residents have come back despite many longing to do so.
The picture here, however, is not all bad.
"What we're seeing are some indicators that New Orleans is bouncing back even better than before," says Allison Plyer, the Deputy Director of the New Orleans Data Center - an organisation that has carried out a comprehensive study into the state of New Orleans.
"We have higher wages than we did pre-Katrina, and that's helping lift some people out of poverty. There's a lot of new businesses here and we've had an influx of young professionals," said Ms Plyer.
The business district is thriving, and if you take a walk up the city's famous Bourbon Street, tourists are beginning to return to one of America's most culturally important places.
Permanently displaced
But the research from the data centre also shows that around 100,000 people never made it back - for the most part they were scattered across several states. And many may never return.
It is a mixed picture of success stories and continued failures, but other factors in the past five years have not helped.
A global recession loomed large over New Orleans, and then there was the BP oil spill off the shores of Louisiana.
"People that have been coming here for years have been asking me if I have oil in my sea food, I'm sure it's safe," says Henry Poynot, who runs the Big Fisherman Seafood shop in the city's Garden District.
He survived Katrina and managed to keep going through the recession, but now he is battling against a perception that the seafood here is ruined.
"I don't want to say I'm immune to it, but I'm becoming numb. You just keep plugging away at it. I realise I have to adapt and overcome or lay down and die, and I'm not ready to do that."
That is a spirit that reflects the people of this city.
It is hard to forget the images of people clinging to rooftops five years ago or the images of thousands of residents corralled into the Superdome, while authorities wrestled to bring order back to New Orleans.
But five years after the storm things have improved for many, and there is a desire here to make New Orleans whole again whilst acknowledging that many scars will remain.