Fifteen Taliban militants killed in Pakistan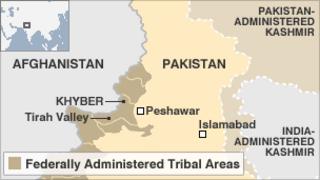 Fifteen suspected militants allied to the Taliban and one security force member have been killed, says the Pakistani army.
The military has been struggling for more than a week to dislodge Taliban fighters in the Tirah Valley of the north-west Khyber tribal region.
More than 100 militants and 20 army troops have died in days of fighting.
Fighting in the region has escalated in recent months since the Taliban allied with local militia, Lashkar-e-Islam.
It is the latest in a series of similar ground offensives in recent years in the remote region which borders Afghanistan.
The arrival of the Taliban a few years ago resulted in an even more volatile situation.
Since becoming allies, the Taliban and Lashkar-e-Islam have been launching attacks in an attempt to drive out the main government-backed militia, Ansarul Islam.
The Pakistani military are trying to regain control of the region.
However, the increasing number of casualties on both sides indicate that the Pakistani military are facing stiff resistance from Taliban militants.
Tens of thousands of people have been forced to flee their homes in the region for safety.