Sanctuary or ceremony for Sri Lanka's elephants?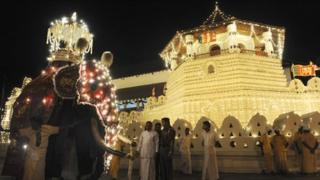 In a river near the town of Kegalle, Raja the elephant takes his bath. The huge 50-year-old beast lies languidly in the coolness while two keepers scrub him hard.
His tail twitches as his trunk explores the riverbed and sprays jets of water on his body.
Most impressive are his long tusks.
Many Asian elephants do not grow tusks at all: those that do are prized and much used in religious ceremonies.
Raja and his three companion elephants - one other is also tusked - play an exalted part in the spectacular annual Essala Perahera parade in the Sri Lankan hill town of Kandy, home of what is said to be the Lord Buddha's tooth housed in Kandy's Temple of the Tooth.
Raja's role is a source of pride for owner, Appuhami Millangoda, 89, whose family have kept captive elephants for three generations. In the 1940s he used to ensnare them from the wild.
'Short of sleep'
But there is a problem now which threatens the use of elephants in such ceremonies.
As trapping elephants is now illegal, the number in captivity has plunged from 500 15 years ago to about 100 now, only 70 of which can be used in the festival season as the others are on heat.
And there is no clear plan on how to replenish the stock: some believe more should be caught but others vehemently oppose that.
"The problem is that the different temple festivals all happen during the same season," says Damsiri Karunaratne, secretary of the Elephant Owners' Association of Sri Lanka.
"The 70 elephants we have need to attend all of them. So the animals get hurt as we take them around by lorry. They go short of sleep and get tired from travelling."
We meet Mr Karunaratne in Kandy as a temple elephant is taken around shrines to offer gestures resembling prayer and blessing as captive elephants are trained to do.
The animal is restrained by chains.
Mr Karunaratne says that in former times problematic elephants were left out and the best ones selected.
But now, with little choice, when planning the big parades the temple authorities are compelled to use elephants that are troublesome, even violent.
For centuries captive elephants in Sri Lanka have had a noble or royal role. Buddhists and Hindus alike associate them with valour and strength.
Although some animal welfare activists oppose the keeping of elephants, there is no prospect of the tradition being abandoned - but there are questions about its future.
Youthful beasts
In the drylands of north-central Sri Lanka, wild elephants are common.
At Ritigala, orphaned animals are being taken in at a new government facility where they will be fed and nurtured to be returned to the wilderness. It is the second "transit centre" in the country.
Big branches are devoured by three youthful beasts while two baby elephants are given milk and medicine.
Conservationists worry that with the shortage of captive animals, such centres might be targeted by illegal elephant-rustling gangs. They say the animals are already being captured from national parks and other areas.
"We know that baby elephants are captured in the wild and are taken from their mothers," says Rukshan Jayewardene of the Wilderness and Protected Areas Forum.
"These are young, dependent animals. We should as a nation be concerned about it."
He says such illegal operations happen by night and there is an organised, well-funded network engaged in it including some monks.
"These animals go into captivity, sometimes into domestic home situations, sometimes to temples," he says.
'Completely unacceptable'
Tusked elephants - only 3% of the total population of several thousand - are especially vulnerable, he says.
Also controversial is the periodic "buying" of animals from a well-known elephant orphanage at Pinnawala near Kandy, after which they are given as gifts to temples.
President Mahinda Rajapaksa "donated" two such elephants to the Buddhist authorities in Kandy in 2009.
The move was controversial and the UK-based charity, the Born Free Foundation, says this conflicts with Pinnawala's role as a sanctuary for wild elephants. The monks, however, defended the donation.
Sri Lankan conservationists say captive elephants can face cruelty.
Last month the main elephant at the Kotte temple outside Colombo died. The chief monk said it was struck by lightning but Sajeewa Chamikara of the Environment Conservation Trust said there was no evidence of this and suspected it had been wounded by its keepers.
Last year 30 wildlife groups boycotted a government census of wild elephants after a minister said it would be used to locate healthy animals including tuskers to be domesticated for temples.
The minister withdrew his remarks and the government denies there are such plans. But conservationists like Rukshan Jayewardene worry there may still be.
"If elephant owners and the country think we need more elephants for ceremonial use, that we need more tuskers, then we should breed them," he says.
"Capturing them from the wild is completely unacceptable and it violates all our existing laws on fauna and flora protection to go and capture elephants."
But Damsiri Karunaratne says the pool of captive animals is too small for breeding and that some new ones should in fact be taken from the wild, although not tusked ones.
He says this could even relieve the pervasive problem of clashes between farmers and elephants, and the government should consider changing the rules even though these are governed by international conventions.
Conservationists abhor the idea that more wild elephants should be captured. As more tuskers and captive elephants die, the issue is likely to get more controversial.