Nepal PM seeks unity cabinet to agree new constitution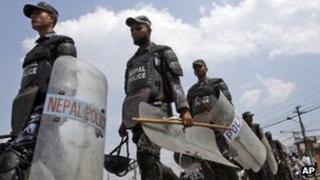 Nepal's Prime Minister Baburam Bhattarai is working to form a unity government as part of efforts to agree a new constitution by the end of May.
His cabinet resigned on Thursday to make way for the new administration and Mr Bhattarai will step down by the end of the month, aides say.
Parties have vowed to meet the deadline, having missed previous ones.
The new constitution is a key part of a peace process launched in 2006 after Maoist rebels ended a 10-year revolt.
Mr Bhattarai, a senior Maoist leader, is expected to form the coalition government over the weekend, his office said.
The Maoists won most seats in elections in 2008 but fell short of an overall majority in the Constituent Assembly.
It was given two years to write a new constitution but that deadline has been extended as negotiations have faltered.
Nepal's Supreme Court has set what it says is a final deadline of 27 May for parties to reach agreement.
Major stumbling blocks remain, such as how to construct a new federal Nepal which represents the country's diverse ethnic groups. Some observers doubt agreement can be reached by the end of this month.
"Differences in the new constitution are too fundamental to be resolved just by a consensus government," Kunda Dixit, editor of the Nepali Times weekly, told Reuters news agency.
"These should be debated by experts and demographers and should not be part of a political give and take."
Several ethnic groups want separate states under the new constitution.
On Monday, a bomb killed four people at a rally in the southern town of Janakpur, where protesters were demanding a separate state.