Nepal Christians plan hunger strike over burial ground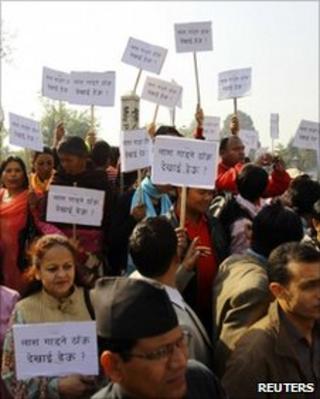 Nepal's minority Christian community has threatened to go on a hunger strike unless the government sets aside land for them to bury their dead.
The countrywide hunger strike is due to begin on Monday.
The community has been trying since February to persuade the authorities to give them designated burial grounds.
At the moment, they say, they are often forced to dig up bodies and find new places to bury them when local communities object to the graves.
Some corpses have even been disposed of in secret, they say.
Christians constitute less than 5% of Nepal's mainly Hindu population.
But, the BBC's Joanna Jolly says, Christianity is becoming more popular in Nepal, partly because poorer Hindus view it as a way to escape the rigid caste system and better their lives.
Unlike Hindus, who cremate their dead, Christians need designated land for cemeteries and it is this demand that has brought them into conflict with the government.
Despite ongoing meetings with ministers, no land has been given.
The community members say sometimes they have to resort to throwing corpses into rivers in secret at night because they do not know what else to do with them.
In March, hundreds of Christians protested in the capital, Kathmandu, demanding designated burial grounds.
In February, they were prevented from burying their dead in the grounds of the Hindu Pashupatinath Temple - which they have done for decades.
Temple authorities said that there was no space left for new graves.