Pakistan PM Gilani urges reconciliation for Balochistan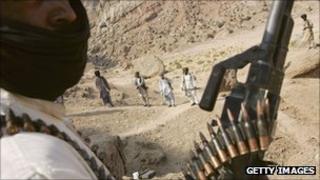 Pakistani PM Yousuf Raza Gilani has said that development and reconciliation are the only ways to stop militancy in Balochistan province.
Mr Gilani was speaking at a ceremony to mark the induction of 4,000 Baloch men into the army in Quetta.
Balochistan - Pakistan's largest province - is currently gripped by a separatist insurgency, sectarian violence and Taliban suicide attacks.
While rich in minerals it is under-developed with high poverty levels.
Mr Gilani called on all militants in Balochistan to opt for reconciliation. He said they were only "delaying the inevitable rise of progress" in the province if they failed to do so.
The BBC's Syed Shoiab Hasan - who was at the passing-out ceremony - says that there is a growing sense of frustration among unemployed youths in the province who are increasingly joining pro-Taliban militant groups or the separatist insurgency.
Tight security
Since 2000 local tribesmen have been fighting the army for greater political rights and in some cases the right to secede from Pakistan.
At the same time the Taliban have been using the province either to attack the Pakistani army or launch attacks against Nato forces in neighbouring Afghanistan.
Last month Taliban suicide bombers attacked the residence of a military official in Quetta, killing at least 20 people.
Also in September the sectarian group, Lashkar-e-Jhangvi, said it was behind gun attacks in Balochistan in which scores of Shia Muslims were killed.
Those attacks were the deadliest against Shias in Pakistan since a suicide bomber killed at least 57 people at a rally in Quetta in September 2010.
Our correspondent said that Mr Gilani on Tuesday was surrounded by tight security throughout the course of his speech, because nationalist militants have targeted such ceremonies in the past.
The threat posed by the insurgency, pro-Taliban militants and sectarian violence means that the security forces in Quetta are under even more pressure than usual, our correspondent says.