India and Pakistan agree to double trade in three years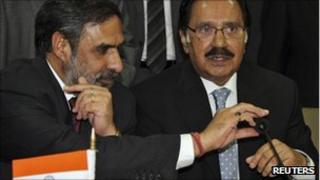 Pakistan and India say they have agreed to double their trade within three years in an attempt to boost relations.
Their trade relationship was damaged by attacks in the city of Mumbai in 2008 which killed 165 people and which India blamed on Pakistan-based militants.
Speaking after talks with his Pakistani counterpart in Delhi, the Indian commerce minister said both sides were committed to promoting trade ties.
The two sides agreed to ease trade barriers and promote business travel.
It is the first time for 35 years that a Pakistani commerce minister has led a business delegation to India.
"Both ministers noted with satisfaction that India and Pakistan are entering a new phase of full normalisation of bilateral trade relations," a statement released by the two sides after the meeting said.
Indian Trade Minister Anand Sharma said that Delhi would also support a scheme proposed by the European Union to boost textile exports from areas of Pakistan ravaged by floods with duty waivers.
Correspondents say that the move was trumpeted by Delhi and Islamabad as a sign of improving relations.
"The meetings between the ministers were very productive and useful," Mr Sharma told reporters.
"We engaged in a frank and constructive manner."
The two sides will meet again in November.