India film posters recall forbidden fantasies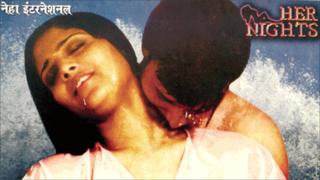 An exhibition of Indian adult movie posters currently on in the capital, Delhi, recalls an era now almost forgotten.
Back in the 1970s, 80s and early 90s so-called "morning shows" were hugely popular - their all-male audiences consisted largely of schoolboys and bachelors seeking a rare glimpse of female flesh.
Because they dealt with the taboo subject of sex in a conservative India, the films were considered soft porn here.
But despite their suggestive titles and racy posters, the films were really pretty tame by international standards.
"Morning shows" - and their hand-painted posters - did a thriving business until the advent of 24-hour television, cheap videos and DVDs and the internet began their downward slide.
Multiplexes, which replaced single-screen cinemas, have all but finished them off.
'Birds and bees'
The exhibition, Morning Show, is perhaps the first time such posters have gone on display in India.
"The morning show culture is almost gone now," says V Sunil, the curator of the exhibition.
"In the pre-internet and television era, a whole generation of Indian men learnt their birds and bees from these films," he says.
The shows usually began at 10am and finished before the hordes descended on the cinemas to see mainstream Bollywood offerings.
Mr Sunil is the creative director at Wieden+Kennedy, a US-based advertising firm, and the show at the swish art gallery at their office in south Delhi's Sheikh Sarai area has 23 posters on display.
The gallery, rated the city's best by Delhi Time Out magazine last year, might seem an unlikely venue to show posters about films which were regarded as a bit sleazy. No woman was ever seen queuing to get into a morning show.
But organisers say the exhibition has attracted a steady stream of visitors - and a surprisingly large number of them have been women.
Suggestive and raunchy
Most of the adult films in India were made in the southern state of Kerala - originally in the local language, Malayalam, and many were later re-versioned in Hindi.
Film titles such as Bewafa Biwi (Unfaithful wife), Gair Mard (The other man), Pyar ki ek raat (A night of love), Her Nights, Qatil Jawani (Killer woman) and Pyar ke sapne (Dreams of love) were often suggestive and the posters always raunchy.
Most featured actresses who were voluptuous, many were dressed only in their lingerie, and on show was a bit of cleavage, women in the throes of passion and couples in intimate poses.
Sometimes photos of international models or Hollywood stars like Brooke Shields were also used.
The adulterous woman and her adventures were recurring themes in many of the posters.
Mr Sunil says the posters were often raunchier than the films they were promoting.
"One of the most popular adult Hindi films was called Her Nights - it was a remake of a Malayalam film. In this film, the actress wore her boyfriend's white shirt and you could see her legs and that was enough to make it a huge hit," he says.
Sometimes though, the cinema owners would throw in a random scene from a foreign film - showing a kissing couple or a woman in a bathing suit jumping into a pool - much to the delight of their audiences.
"Those were desperate days, you would just go to see a leg or maybe a woman in the shower. But these movies were the only release for a large number of bachelor men," Mr Sunil says.
Cheap tickets were another reason why the morning shows were almost always packed - at 1 or 2 rupees they were easily affordable even to students.
Today, of course, the morning show culture has lost its allure - American television soaps like Sex and the City and Two and a Half Men, shown on prime time television here, are far more daring than the adult films of the 70s and 80s.
Even mainstream Bollywood films, with their scantily-clad dancers, have a lot more skin on show.
And now, the morning show posters, too, have fallen on hard times.
In the past few years, old hand-painted Bollywood posters have become much coveted pop art. They are sought after by collectors the world over with originals of hit movies selling for hundreds of dollars.
With this exhibition, Mr Sunil hopes some attention will also be paid to the art of adult movie posters and the role they played in addressing Indian culture's forbidden fantasies.