Air India: Fleet expansion 'a recipe for disaster'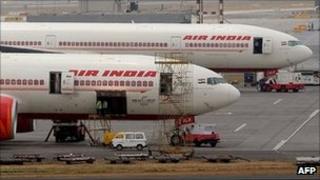 Indian government auditors have criticised the aviation ministry over its decision to buy 111 planes for the national airline, Air India.
In a report submitted to parliament on Thursday, the auditors said the 2005 decision was "a recipe for disaster".
The Comptroller and Auditor General (CAG) also said the decision to merge the domestic and international sections of the airline was "ill-timed".
Air India has been losing millions of dollars in recent years.
The ailing state-run airline wants government money to help turn its fortunes around.
Former civil aviation minister Praful Patel said the decision was taken by the government to make the airline commercially viable.
'Risky'
The CAG report said the decision to acquire a "large number" of Boeing aircraft was "risky" and that the acquisition had "contributed predominantly" to the airline's massive debt liability which stood at $8.5bn (£5.19bn) until the last fiscal year.
"The entire acquisition [for both Air India and Indian Airlines] was to be funded through debt [to be repaid through revenue generation], except for a relatively small equity infusion of $72m (£43m) for Indian Airlines," news agency Press Trust of India quoted from the report.
"This was a recipe for disaster and should have raised alarm signals in the ministry of civil aviation, public investment board and the planning commission," the report said.
The auditors also called the 2007 merger of Air India and Indian Airlines "ill-timed" saying that "the financial case for the merger was not adequately validated prior to the merger".
The report also questioned the bilateral agreements the ministry entered into with foreign countries which, it said, favoured international airlines.
The auditors said "harsh decisions" were needed to improve the health of the airline.
Mr Patel said the CAG report was "full of contradictions".
"Whatever the government did in its wisdom was to make the airline commercially viable.
"We had to decide immediately as to whether new planes should be bought, otherwise the airline would have closed down," he said.
India's national airline has been making huge losses and is struggling to compete in a growing crowded market.
Since the merger, pilots have frequently gone on strike, complaining about poor employment conditions.