India's Mayawati says 'Wikileaks founder has gone mad'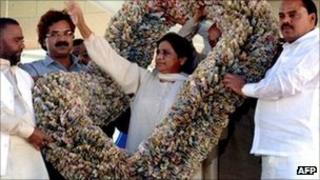 The chief minister of India's Uttar Pradesh state has said the founder of the whistleblowing website Wikileaks "needs to be in a mental asylum".
Ms Mayawati said Julian Assange was either working with her political opponents or had "gone mad". He has demanded an apology.
The outburst follows reports, based on leaked US diplomatic cables, that she sent an empty private jet to collect a pair of sandals from Mumbai (Bombay).
She flatly denied the reports.
Ms Mayawati said the charge was "mischievous, baseless, wrong and shameless".
A BBC correspondent in Delhi says Ms Mayawati's outburst is not out of character - in the past, she has often used strong and offensive language against her critics and political opponents.
But she is also an icon to millions of low-caste Dalits (formerly untouchables) who are mostly poor and deprived. Uttar Pradesh, the state she leads, is one of the poorest in India and also its most populous.
Later, Mr Assange responded to Ms Mayawati, saying she had "betrayed rational thought" and asking her to withdraw her statement and apologise.
He added that he had been held under house arrest in the UK for 272 days but "would be happy to accept asylum, political asylum, in India - a nation I love".
"In return, I will bring Mayawati a range of the finest British footwear."
'Anti-Dalit mindset'
Ms Mayawati had earlier accused Mr Assange of having an "anti-Dalit mindset".
"The owner of Wikileaks has gone mad or he has joined hands with our opposition parties to malign my government," she told a press conference broadcast live on Indian television.
"I request the government of his country to send him to a mental asylum and in case they are all full, I will make space for him in the mental asylum in [the city of] Agra," she said.
The claims about Ms Mayawati were revealed in cables marked confidential and recently released by Wikileaks. They were dated 23 October 2008.
One cable said that: "When she needed new sandals, her private jet flew empty to Mumbai to retrieve her preferred brand."
The cables added that the chief minister was paranoid about her security and "fears assassination" and employs "food tasters" to guard against poisoning. One of the releases described her as an "egomaniac".
The cables also described her as "obsessed with becoming prime minister".
Ms Mayawati has long been the centre of controversy for building statues of herself and other Dalit icons, but she denies encouraging a personality cult.
She accuses her critics of conspiring against her.