Supreme Court opens Karachi killings inquiry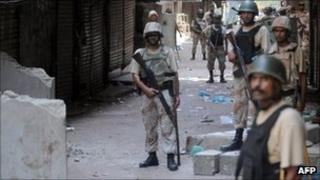 Pakistan's Supreme Court has opened an inquiry into an increase in killings in the southern city of Karachi.
At least 800 people have died in political and ethnic violence in the country's financial capital this year.
Correspondents say much of the recent violence involves armed gangs linked to rival ethnic and political groups.
On Monday, the security forces suggested that an influx of hundreds of thousands of ethnic Pashtuns had worsened tensions.
Many moved to Karachi after being displaced by anti-Taliban operations in the north.
The Supreme Court inquiry comes a day after a senior figure in the ruling Pakistan People's Party, Zulfiqar Mirza, accused another political party, the MQM, of fuelling the violence - an allegation which MQM leaders deny.
Dr Mirza says he has documentary evidence to back his claims which he will present in court.
Pakistan's Chief Justice Iftikhar Chaudhry has flown in from Islamabad to chair proceedings.