'Wrongly sung' Indian anthem challenged in court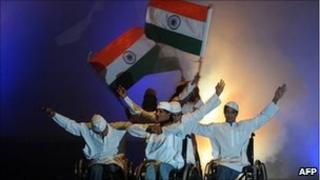 A professor in the Indian city of Mumbai has challenged use of the word Sindh in the national anthem - arguing that it is a province in Pakistan.
Prof Shreekanth Malushte told the BBC that Sindh should be replaced with Sindhu, the name of an Indian river.
The petitioner says the government accepted the change in January 1950 but the authorities have done little to create awareness of it.
Hence, he says, many well-known singers continue to sing the anthem wrongly.
Jana Gana Mana, written by Nobel laureate Rabindranath Tagore, was chosen as India's national anthem after its independence in 1947 from the British colonial rule.
"When the national anthem was adopted by the constituent assembly on 24 January 1950, the word Sindh used in Rabindranath Tagore's song was replaced by Sindhu in the national anthem," Prof Malushte told the BBC.
"This was done because Sindh province was transferred to Pakistan after the partition of India and the creation of Pakistan."
Prof Malushte says the song continues to be wrongly sung, even at government functions, including the Republic Day and Independence Day celebrations.
"The national anthem is sung in two different versions in the country. While some use the correct word Sindhu, several others continue singing with the wrong word."
He has compiled a list of artistes who have used the word correctly and incorrectly while singing the anthem.
Prof Malushte now wants the court to issue an order asking the government to clarify and use the correct word.
The court is due to hear the case on 15 September.