Satya Sai Baba Trust 'has $190m cash reserves'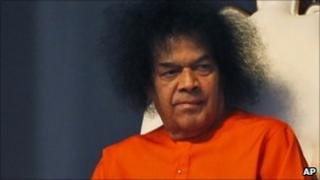 A trustee in charge of managing the vast empire of the late Indian guru Satya Sai Baba has revealed that it has $190m (£118.3m) of cash reserves.
The trustee says media reports have wildly exaggerated the true value of assets managed by the trust.
Media reports have put the value of all trust assets at between $10-25bn. This is thought to be the first time its cash reserve value has been revealed.
Satya Sai Baba was one of the most influential Indian spiritual leaders.
He enjoyed support from all areas of Indian society and had millions of followers around the world.
But he was dogged by controversy including allegations, never proven, of sexual abuse and charlatanism. He died on 24 April at the age of 84.
He used his wealth to carry out number of social welfare activities, including building a hospital and a university.
After his death, wide-ranging concerns were expressed by the public about who would inherit his massive wealth.
"We have about 8.5bn Indian rupees ($190m) of cash reserves. The interest we get from this will be used to run our hospital and university," Madras-based industrialist V Srinivasan said.
But the trust does own huge assets. It runs a big hospital in Bangalore, it has a university and it owns land in various places around India.
"The properties we have are all for specific purposes. In Bangalore, we have 60 acres of land where our super-speciality hospital is already built," says Mr Srinivasan.
"This land is not used for commercial purposes, nor will it ever be. So the value we will fix in our balance sheet is the value at which we acquired the property," he says.
"Our trust is not speculative. It is very specific. We don't hold any property for commercial development," he adds.
But Sai Baba's organisation also has property abroad.
"The properties that lie abroad don't come under the central trust. They are run from respective countries. We have no control or knowledge of the value of properties abroad," he says.
There are growing calls for the government to monitor the activities of the trust.
"[The] Andhra Pradesh government has asked certain details about the trust. We will furnish all the information that they have asked for by next week," Mr Srinivasan said.