Nepal profile - Leaders
President: Ram Baran Yadav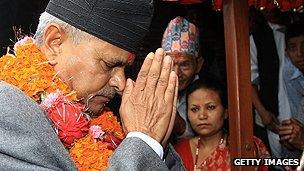 Mr Yadav became the first president of Nepal in July 2008, nearly two months after the country's constituent assembly voted to abolish the 239-year-old monarchy.
He is an ethnic Madheshi from Nepal's southern lowlands and was backed by the centrist Nepali Congress - the second largest party in parliament - as well as two smaller parties.
Mr Yadav is a doctor and twice served as health minister.
He has also held senior positions in the Nepali Congress. The presidency is a largely ceremonial position.
Prime minister: Sushil Koirala
Sushil Koirala, the leader of the Nepali Congress - the country's largest political party - was elected as prime minister by the Nepali parliament or constituent assembly in February 2014.
He was the only candidate for the post, and secured a comfortable majority of MPs' votes after the Communist Party of Nepal (UML) agreed to back him.
There had been a political deadlock since the previous November, when no party won a majority in elections to the constituent assembly. The two leading parties - the Nepali Congress and the UML - between them have just short of a two-thirds majority in the 601-member assembly.
Mr Koirala is the sixth head of government since Nepal became a republic on the abolition of the monarchy in 2008, following a peace deal with Maoist rebels in 2006.
Since then, the drafting of a new constitution has proved to be a major sticking point in the country's political transition.
The Maoists won most seats in the elections that followed the peace accord, but the government collapsed in 2012 after failing to make any progress on the constitutional front.
The Maoists were trounced in the November 2013 polls, coming third behind the Nepali Congress and the UML.
On being elected to the premiership, Mr Koirala promised to draft a new constitution within a year, but whether he succeeds where so many others have failed largely depends on the extent to which he can continue to count on the support of the UML.
Sushil Koirala is descended from a line of politicians and activists who have long controlled the Nepali Congress, and is the fourth member of his family to become prime minister.
He joined the Nepali Congress in 1954 and became its president in 2010.
In his 30s, he spent three years in Indian prisons for his involvement in a plane hijacking in 1973.
In June 2014, Mr Koirala was diagnosed with lung cancer and received treatment at a New York hospital.