Nearly 180,000 people displaced in Sri Lanka floods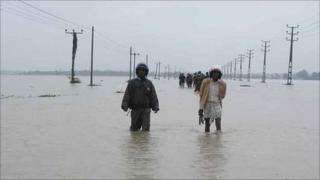 Heavy rains causing severe flooding in Sri Lanka have forced 180,000 people from their homes and killed 16 in the centre and east of the country.
Rice fields have been destroyed as farmland has been inundated - ancient man-made lakes have burst their banks and country lanes look like rivers.
The rain has hit Ampara, in the south-eastern corner of the country and Batticaloa in the east.
Some stretches of railway lines are under nearly a metre of water.
"At the moment, conditions are getting very bad," Disaster Management Committee spokesman Pradeep Kodipply told BBC Sinhala.
"[On Monday] more than 160 millimetres of rain fell in the eastern and north-central areas... 1,128 houses have been completely destroyed and 10,480 houses damaged."
The BBC's Charles Haviland in Colombo says that the town of Muttur has been cut off from land access.
The government says that conditions are so rough that sea access to the area was impossible, so the air force dropped food supplies on the town.
Across eastern and central Sri Lanka, schools have been shut and many have become relief camps.
A far greater number have been forced out of their homes and many are staying with family or friends.
Our correspondent says that some of the deaths were caused by landslides in the hills and many people have been evacuated from their houses as a precaution.
The government, the Sri Lanka Red Cross, the World Food Programme and others are sending in clean water, food rations and other relief items.
But distributing it will not be easy as some roads have been breached in two.
The floods bring a risk of disease including the mosquito-borne dengue fever, which even in normal times is a severe problem in the country.
The health ministry and relief organisations are trying to supply hygiene kits and raise people's awareness of health hazards.