Delhi Games' village 'ready by Wednesday'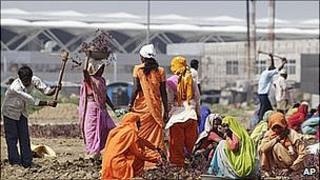 The Chief Minister of Delhi, Sheila Dikshit, says the athletes' village for the Commonwealth Games won't be finished until Wednesday.
The news follows mounting criticism over India's preparations for the Games, which open next Sunday.
About 4,000 people are working around the clock to get the village ready, as competitors from across the world begin to arrive.
Athletes from Kenya, Scotland and India are now living in the village.
But some competitors have already pulled out of the Games after the accommodation was described as filthy, uninhabitable and unsafe.
Ms Dikshit visited the site on Sunday to check on progress.
After talking to officials she said work was "on track".
"About 66 flats will be handed over by tomorrow [Monday] and everything will be complete by Wednesday," she said.
Meanwhile, Team England has announced it will move its athletes to the village on Monday from the hotel in Delhi where they have been staying.
'Athletes happier'
The BBC's Rahul Tandon in Delhi said the announcement was a rare bit of good news for the Games' beleaguered organising committee.
BBC sports reporter Sonali Shah said Team Scotland had moved into the athletes' village after flying out on Saturday.
"They say they are happier. They say there are still a lot of things to be done," she said.
The build-up to the Games has been marred by construction delays, corruption scandals, a dengue fever outbreak and the collapse of a footbridge near the main stadium.
A suspected militant attack on two foreign tourists has also highlighted fears about security.
Mike Hooper, chief executive of the Commonwealth Games Federation, told the BBC his organisation wasn't to blame for the problems.
He said he had been applying pressure on organisers since his team first viewed it in March.
"These people just did not understand, or seem to accept the magnitude of the problem. But the reality is, we are where we are."
He said that since the problems had been made public a lot of work has been done on the site.
The cost of hosting the largest sporting event in India's history has soared.
It has become most expensive Commonwealth Games so far, with estimates ranging up to more than $10bn (£6.3bn).
Delhi has had seven years to prepare, though very little work was done until 2008. Ticket sales have so far been low.