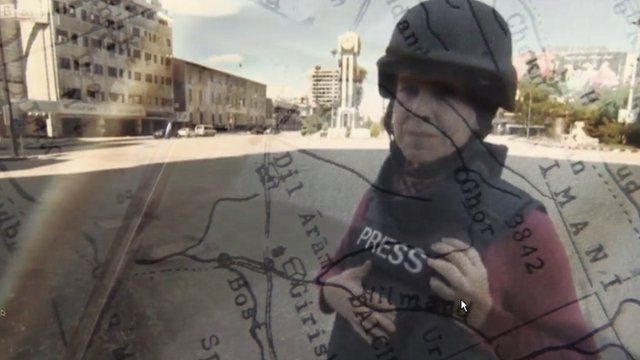 Live The Story: Lyse Doucet on reporting a bomb blast
8 May 2013 Last updated at 12:54 BST
When you hear an explosion, you always stop for an instant, wondering: 'What is it? Where is it?'
You notice how everyone around you is also doing the same, stopping in their tracks.
And then you ask: "How fast can we get there?"
Journalism is about being there, whatever the story. But when it's about a bomb, it's also about getting to the site, as safely as possible. Then you find yourself caught up, at the scene, in a furious swirl.
It's often impressive to see how quickly ambulances, medical teams, and emergency services arrive. Trained hands start doing what they have to do, no matter how grisly the scene.
As a journalist, you also become part of this moment, doing what you have to do, to bear witness.
As quickly as possible, you focus on details: what was the impact of the blast; who or what was targeted, who and how many were killed; where are the injured; and what has happened to the neighbourhood?
You also have to ask, could there be another explosion right here?
The emotion all around you can be overwhelming. The savagery of the act can shock. The rawness of grief is heartbreaking. People's sorrow swells along with anger and incomprehension.
As a foreigner, and a journalist, you can become a focus for that outpouring of emotion. At times, we may even be a symbol of what people regard as the politics of their plight. But more often, strangers come forward with their stories, hoping you can tell them.
Sometimes, you wish you hadn't witnessed such horrific scenes. But sadly, too many people are forced to live with this day in, day out. If you don't see at least some it yourself, you can't possibly understand it, or care. That's why we broadcast it.
In the end, we're there to make sense of stories that sometimes seem senseless.
That's why, when we first hear the sound of a blast, we don't run away from it, we run toward it.
Who can report a story better than someone who lives it?
With journalists in more countries than any other international news broadcaster, we don't just report a story, we live it.
More Live The Story reports:
David Shukman on reporting the shuttle's final blast off
Laura Trevelyan on reporting hurricane Sandy
Komla Dumor on reporting Africa's passion for football
For a list of all programmes, go to BBC World News programmes