Iraq crisis: Voices from Mosul under ISIS control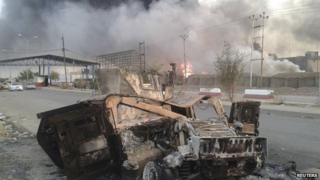 The first images from the Iraqi city of Mosul after its seizure by Islamist militants showed deserted streets, vehicles ablaze and discarded uniforms left by fleeing government troops.
Since then relatively little information has emerged to tell the outside world what life is like under the control of the Islamic State in Iraq and the Levant (ISIS).
The group has a reputation for brutality. Parts of Syria and Iraq that have previously fallen under its rule have witnessed summary execution, beheadings and even crucifixions.
But analysts believe that ISIS may now be seeking to stabilise those areas it now controls in order to achieve its aim of an new Islamic state straddling the Syria-Iraq border.
In fact, after overrunning Mosul - Iraq's second largest city - it has sought to reassure the population and ask people to return to work.
It is still not clear, however, how much control ISIS is able to have on the day-to-day running of a city with nearly two million inhabitants.
Some accounts have come from the estimated 500,000 residents of Mosul and surrounding area who have fled towards the Kurdistan region.
Abu Ahmad, 60, said he saw ISIS fighters on the streets but they were not causing any harm.
"The inhabitants have formed popular defence committees to protect the banks and government buildings," he said.
Another man who fled Mosul with his family said: "They call themselves the revolutionaries. They told us not to be scared and that they came to liberate and free us from oppression."
Mina Al-Oraibi, an Iraqi journalist based in London, has spoken to friends and family in Mosul.
"The situation is as unclear to them as it is to us watching it from outside," she told the BBC.
"They know there are militants on the ground, armed, in control, there is no presence whatsoever of the government. Schools are shut, the main hospital in the city is under the control of the militants. No petrol stations are open, shops are closed.
"People are concerned because in a few days they will start needing supplies."
She said there was movement within the city as people left areas considered more dangerous or where electricity had been lost.
Those who have not fled are staying indoors as much as possible.
She added: "There have been messages given out over loudspeakers and men [militants] going door to door telling people: 'We are not here to harm you.' It appears that what they would like to prove is that they can actually run a state."
Some residents actually welcomed the retreat by government forces.
"I'm so glad that we got rid of the Iraqi military forces, army and police," Ali Aziz, who works for a humanitarian organisation, told the Guardian.
"They were a curse on the city and its people. Only now can I smell freedom and security in Mosul. I live in the centre of the city with my five kids. I work for a civil organisation. I didn't go to work today because members of the organisation are still thinking how to react in the light of the current circumstances in the city, but other governmental institutions are reopened today
"We have water, power and fuels, but not enough food because grocery shops in the city weren't prepared for such emergency situation."