Syria elections: Voters' views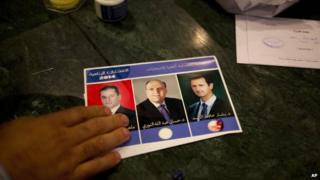 Polling to elect a president is under way in government-held areas of Syria.
It is the first time in generations that Syrians can choose who will be their next president. However, the vote is not taking place in rebel-held areas of the country.
Voters in Syria have been sharing their views on the election.
Abdulla Jadaan, Idlib, Jabal al zawiya
I live in a rebel-held area, there isn't any election held in my town. Today military helicopters haven't stopped flying overhead, I've heard that they have bombarded some nearby towns.
All staff in the public sector living in central Idlib - a government-held area - are forced to vote for the president or they will be dismissed and not receive their wages.
How could I vote? We don't physically have a polling booth or a ballot box and my town is bombarded by Assad forces every day with barrel bombs.
In Syria we have over 300,000 dead and 500,000 in prison and millions displaced from their homes in different countries. This election is a joke. Everyone knows that Bashar al-Assad is going to win even if no-one voted for him.
Rawa Jumaa, Damascus
I will definitely participate in the elections. This is a very good step towards democracy, even though the election is incomplete as some of the Syrian people can't vote and there isn't much credibility in some areas. But still it is our first step to build a fully democratic state. Now we can choose from three different candidates where we used to have only one. We have to be patient as democracy doesn't come in one day.
In Damascus today there is a big national celebration. Syrian people are in the streets going off to vote. The Syrian flag and electoral campaigns are everywhere. The biggest support in my area is for the President Bashar al-Assad but I know this is different in other areas.
I am going to vote for President Assad because he is the most experienced and he has been dealing with the war in Syria for three years now. The other candidates are not known to me. The opposition should respect the election and its results, and they should stop their mortar firing to stop people from voting.
Joseph, in the UK has spoken to his brother in Qalamoon District who says:
This is a sham election. Assad has orchestrated this event. He has put forward two men as "opponents". Nobody knows them. They are supported by the regime. They never speak against the regime in the media. They even admit they will work with Assad to form a government. Besides, we all know that Assad will win this election.
In our town alone, north of Damascus, 150 people have been tortured and killed by the government since the start of the year. Everyone lives in fear here. We have to go and vote, and vote Assad. People fear their ID cards will be marked when they go for election. So anyone who does not go may be found out and subjected to repercussions. This rumour is spreading fast and people have been queuing outside the polling station since early morning.
Nobody believes that this is a true election, or that the votes make a difference. But we do fear for our lives and for the lives of our family if we don't vote.
We would like to see a fair result. A result that reflects the desire of Syria. It would be a miracle for Syria to return to peace and democracy. What will Syria get? There will be no change in our situation. The international community does not care for us.
Nawar Edris , Damascus
I've already voted. I went to the polling station with my ID. I was given a card with pictures of the three candidates then I was sent to a private room on my own. I made my choice and put the card in an envelope and then into the ballot box.
I think this is the best election in the Middle East and I don't think it is less transparent than any election in the west.
This is a very important election. It is the first election in 30 years. It has united Syrians. Walking in the street I saw many Syrians who had already voted and in my workplace 90% of my colleagues have voted.
I voted for President Bashar al-Assad. But I also liked the revolutionary ideas of the other candidate Hassan al-Nouri - he is well-educated and has very good ideas about rebuilding the economy. I hope he get appointed in any future government.
The most important thing for me is fighting the terrorists in Syria, and I think Bashar al-Assad is the most capable of doing this and we already see him succeeding in this.
In some parts of Syria, terrorists are preventing people from voting. And the countries that didn't allow Syrians to vote on its land in my view are terrorists. They should let Syrian vote in their embassies.
produced by Mamdouh Akbiek