Bahrain accused over detainee's death in hospital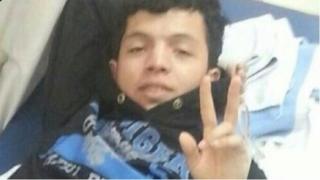 Bahrain's main opposition group, Wefaq, has accused the authorities of responsibility for the death of a detainee in hospital.
The interior ministry said Jaffar Mohammed Jaffar, 23, died on Wednesday at a medical centre where he had been receiving treatment for the past week.
Its statement said he had sickle cell anaemia, but did not explain how this had contributed to his death.
Wefaq said Mr Jaffar had died "due to torture and denial of medical care".
His family alleged he was subjected to beatings and electric shocks.
But the interior ministry told the Reuters news agency that Mr Jaffar had not been tortured and that he had received full medical care.
Officials also said a government ombudsman had begun an investigation into his death, and that the results would be made public once it was complete, according to the Associated Press.
Mr Jaffar was one of several suspects held in connection with an operation in December that resulted in the seizure of stocks of weapons and explosives, including some being smuggled in by sea.
'Complications'
Sickle cell anaemia is an inherited genetic condition common among Bahrain's population.
Named after the distinctive - but abnormal - shape formed by red blood cells, it can cause damage to organs, or in some cases, strokes. If not treated, it can be fatal.
Several other Bahraini opposition supporters have died of sickle cell-related complications while in custody, although the causes of their deaths are disputed.
There has also been a rise in the number of deaths among sickle-cell suffers not in detention since pro-democracy protests first erupted in the Gulf kingdom in February 2011.
An expert on the disease told the BBC last year that the intense use of tear-gas against protesters could potentially have played a part. It could trigger severe problems for a sickle cell sufferer because it restricts the supply of oxygen and causes acute, temporary physical stress.
The hospital where Mr Jaffar was being treated - the Salmaniya Medical Complex - has also lost some of its top specialists due to government accusations that they had played leading roles in the 2011 unrest.
Many sickle-cell sufferers, even those in acute crisis, are also reportedly afraid to seek treatment for fear of interrogation and arrest.