Syria Geneva talks take positive step - opposition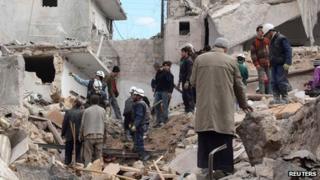 Syria's government has said it will debate a UN-backed document that sets out a way to end the three-year conflict, in a move hailed by the opposition as a "positive step forward"
Presidential adviser Bouthaina Shaaban said they would discuss the Geneva Communique "paragraph by paragraph".
She made no mention of the part that calls for a transitional government.
The idea of a transition process has proved to be a major sticking point at the peace talks in Geneva.
But there were some slightly more promising signs on Wednesday.
Ms Shaaban confirmed that government delegates were willing to go through the 2012 communique "paragraph by paragraph".
She said the first issue they wanted to discuss was the first issue in the document, "stopping terrorism".
"Even in [the Geneva I communique], the first item is to stop violence which has turned to terrorism," she said.
The government generally labels any armed opposition as "terrorism".
She claimed that the opposition's aim "to jump to the item that speaks about transitional government" proved they "are only interested in being in government".
Louay al-Safi, a spokesman for the opposition National Coalition, said the fact that the document was now on the table was "a positive step forward".
"For the first time now we are talking about the transitional governing body, the body whose responsibility is to end dictatorship and move toward democracy and end the fighting and misery in Syria," he told reporters.
However, he stressed again the opposition view that the transfer of power issue must "come first, because nothing else can be achieved before we form a transitional governing body".
The UN-Arab League mediator Lakhdar Brahimi said after adjourning Tuesday's talks that the negotiations continued to be difficult and were unlikely to get any easier.
But he said the representatives of both sides had confirmed that they intended to stay and continue the discussions until Friday, as planned.
Meanwhile, the Syrian government has criticised a recent decision by the US Congress to approve continued support for rebels.
Syrian Information Minister Omran al-Zoubi said the aid contradicted Washington's sponsorship of the Geneva peace talks. Moscow, the other sponsor, has continued to sell weapons to the Syrian military but notes that there is no international arms embargo.
It emerged on Monday that Congress had secretly given its backing to a CIA programme to arm and train "moderate", non-Islamist Syrian factions in Jordan, and provide a variety of small arms and anti-tank rockets.
In a separate development on Wednesday, the UN welcomed the UK's decision to take in hundreds of the "most vulnerable" refugees from Syria.
The British government had previously been reluctant to accept Syrian refugees, preferring to focus on humanitarian aid to the region, but it was facing a parliamentary defeat on the issue.