Egypt attack: Profile of Sinai Province militant group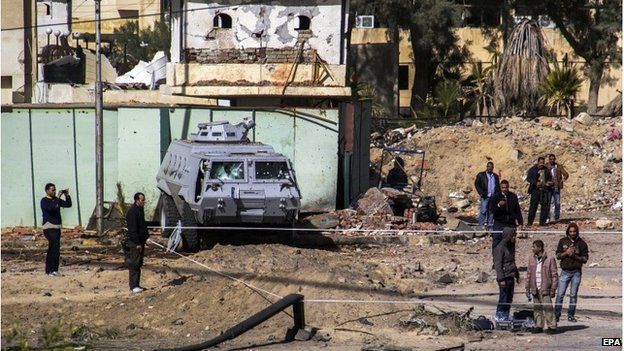 Sinai Province is a militant group that has put its name to a string of deadly attacks in Egypt's Sinai peninsula, and has pledged allegiance to Islamic State (IS).
On 29 January a series of strikes against military targets in North Sinai left more than 30 people dead, attacks which analysts said showed a new level of co-ordination.
The attacks were carried out despite efforts by the Egyptian military to quell unrest in Sinai through a military crackdown.
Attacks against Israel
Sinai Province was previously called Ansar Beit al-Maqdis (Champions of Jerusalem), but announced a name change in November 2014 when it pledged allegiance to IS, the militant organisation that had made rapid advances in Iraq and Syria.
Ansar Beit al-Maqdis was an Al-Qaeda-inspired group that started its operations immediately after the January 2011 uprising that led to the fall of Egypt's long-running ruler Hosni Mubarak.
The group was initially known for launching attacks on Israeli targets and interests.
It first gained attention in July 2012 when it assumed responsibility for the blowing up of a pipeline that exports gas to Israel and Jordan, and a month later, it said it had fired rockets from Sinai into the southern Israeli resort of Eilat.
In September 2012 the group claimed responsibility for attacking an Israeli border patrol in response to a US-produced film widely condemned in the Muslim world as having insulted the Prophet Muhammad.
Assassination attempt
It was after Egypt's Islamist President Mohammed Morsi was forced from power in 2013 and the security forces cracked down on his Muslim Brotherhood supporters that the group started directing its violence against the Egyptian army and police.
The group has been involved in suicide bombings, drive-by shootings, assassinations and beheadings.
In one of its most high-profile attacks, the group tried to assassinate Interior Minister Mohammed Ibrahim in September 2013, when his motorcade in Cairo was targeted by a car bomb.
A month later there were attacks on South Sinai's Security Directorate and on the military intelligence building in the Suez Canal city of Ismailiya.
On 24 January 2014, Ansar Beit al-Maqdis once again targeted the capital, saying it had carried out an apparent suicide truck bombing outside the police headquarters in Cairo.
A day later, on the anniversary of Egypt's revolution against Mr Mubarak, the group claimed to have downed a military helicopter in northern Sinai, killing five soldiers.
It staged its first attack on foreign travellers in February of the same year, bombing a bus waiting to cross into Israel, and killing three South Koreans and the Egyptian bus-driver.
Then in August 2014, the group broadcast a brutal video showing the beheading of four military servicemen they accused of spying for Israel's security service, Mossad. Another six army personnel were killed the following month.
It was in October 2014, shortly before the group pledged allegiance to IS that it said it was behind two attacks on Egyptian military positions in the Sinai, that killed more than 30 soldiers - the biggest loss of life in decades for Egypt's army.
Outside backing?
The group has rebranded its media and its Twitter account to reflect its new IS affiliation.
But even months before its declaration of allegiance to IS, Ansar Bayt al-Maqdis had shown signs of affinity with the group through official leadership statements and its increasingly violent tactics in its attacks, which were then shown in its media output.
Some observers believe the group has links to the Muslim Brotherhood, and there have even been allegations that it is the Brotherhood's "military wing".
But the group has criticised the Brotherhood, and the Brotherhood has itself condemned attacks by the militants, including those in North Sinai on 29 January.
The group's alleged use of tunnels along the Gaza border to get weapons has also been cited as indicating a link with Palestinian militant group Hamas, which dominates the Gaza Strip. However, there is no solid evidence or confirmation of such a link.