Bodies of 14 Sunni men found in Iraq orchard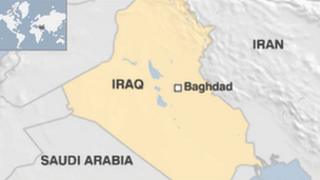 The bodies of 14 Sunni Muslim men have been found in an orchard near Baghdad, say Iraqi authorities.
The bodies were found with gunshot wounds near the Sunni Arab town of Mishahda, about 30km (20 miles) north of the capital.
Among them were several members of one family, said officials. The men were kidnapped on Wednesday by suspected militants in military uniforms.
There has been a surge in sectarian violence across Iraq in the past year.
It is now reaching levels not seen since fighting peaked in 2006-7 following the US-led invasion of 2003.
In late November, 18 corpses were discovered in circumstances apparently similar to Thursday's grisly discovery.
The men's bodies were found with gunshots in an orchard, also near Mishada.
The Sunni men had also been kidnapped by men wearing military uniforms.