Lebanese struggle to welcome desperate Syrian refugees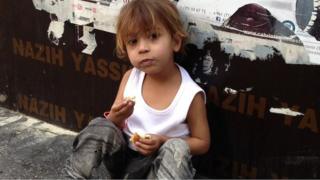 In her tiny hands, a young Syrian child clutched two pieces of broken pizza.
She quickly put one piece in her mouth as if it was the first time she had seen food in days.
Her older brother leant against a nearby lamp post - also picking up bits of rotten food from the bins and pavement, carefully studying them, and then eating them.
'So many'
Their stories are unknown - how they got to Beirut, where they are from in Syria - but their pain is shared by the thousands of Syrian refugees of all ages that line the kerbs in this city - hungry, unclean, and desperately poor.
Under the scorching sunlight, the refugees shout the same phrases for hours on end.
They beg for food and shelter. They follow passers-by tugging at their shirts and bags.
But they draw little sympathy in the trendy and vibrant neighbourhood of Hamra - lined with brightly lit shops, cafes, and restaurants. Instead many here are irritated, frightened, and angered by the newcomers who they accuse of theft and of living in squalor.
A middle-aged man, who refused to give his name, was quick to share his views.
"There are just so many of them," he said. "There are more each day."
"Somehow I feel scared - because I have to watch for my phone, I have to watch for my wallet, I have to watch for my car. Until recently I started to lock my car from inside because you hear stuff, you hear people doing many bad things."
'No jobs'
Lebanon is Syria's smallest neighbour but it has given sanctuary to the largest number of refugees.
More than 739,000 have registered with the UN refugee agency, but the real figure is thought to far higher, with many Syrians not registering and staying with their families.
A large number of them are prepared to work for less money than the locals. Beirut residents told me they dominated low-skilled jobs and occupied cheap apartments in the capital.
Sireen Nassoor, 24, was keen to criticise the newcomers' impact on employment when asked about them outside a popular cafe.
"They have a very bad influence here," she said. "The Lebanese don't have any jobs in Lebanon because all the Syrians are taking them. A Syrian person is prepared to work for a third of the salary of a Lebanese person."
Lebanon's precarious political situation - it has a caretaker government and parliamentary elections have been delayed until next year due to security concerns - has made it even more difficult to cope with the logistical and financial challenges of the refugee influx.
'Very bad future'
Despite the hardship of life in Lebanon, some of the Syrians have no complaints - they say they had no choice but to flee their homeland, and that they were happy to have escaped the constant sound of shelling and gunfire.
"I left Syria one year ago - I prefer to have left Syria and come to Lebanon because here it is a better life," said Bilal Taha, who works at an ice-cream shop in the commercial district of Hamra.
"I don't really miss Syria. But I feel emotional when I see people begging and I wish they could have better lives and find a job because they had to come here."
In other parts of Lebanon, there are concerns of increased violence because of the flood of refugees.
Most of the Syrians crossing the border are Sunni Muslims, and some people in Beirut fear their presence will upset Lebanon's fragile sectarian balance, already disturbed by the decision of the Shia Islamist movement Hezbollah to send fighters to help Syria's government.
"I see blood on the street," said 61-year-old Abdul Wahhab, who has lived in Beirut his entire life and runs an electrical shop. "I sometimes see red smoke when I wake up."
"They are only dreams, but I think we are going to have a very bad future."
Blame-game
You do hear stories here of how families have taken in refugees or given them furniture and clothing to help them set up homes, so there is compassion and sympathy. But there is also an admission of a growing wave of discrimination.
"We cannot be totally nice to them, but still we take care of some of them the decent ones, the polite ones," said Farid Lahout, a long-time Beirut resident. "Of course there is growing discrimination towards them and you can't help that."
Lebanon and Syria share much history, and Mr Lahout noted that there was a time when the tables were turned and Syrians gave Lebanese refuge during the civil war in their country.
"Thirty years ago we had the same situation in Lebanon, and the Lebanese were refugees in Syria and they were treated really badly," he added. "Now, you hear your parents telling these stories and you see Syrians in Lebanon and you realise we cannot be totally nice to them."
So the blame-game continues - with many believing that everything from inflation to rising crime is the fault of the Syrian refugees.
But for the young girl living off old bits of bread scattered on the streets of Hamra - it does not really matter whose fault it is. It is about whether she lives a decent life or whether her future is bleak.