Iranians dare to hope amid Geneva talks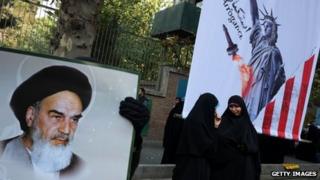 Negotiations in Geneva over Iran's controversial nuclear programme are being viewed by Iranians with a mixture of cautious optimism and mistrust, the BBC's Mohsen Asgari in Tehran reports.
On the third day of complex talks being held in Geneva, the Twitter account of Ayatollah Khamenei posted: "Our negotiators are children of the [Islamic] revolution. We strongly support those in charge of our diplomacy."
This message has been echoed by almost all political activists and media in the past two days.
Those leading Friday prayers also beat the drum for the Iranian delegation to show they enjoy the full support of the system.
Iranian state broadcaster IRIB expressed cautious optimism in its news bulletins.
Its correspondents reporting from Geneva portrayed a positive atmosphere in which "Iran and the West are narrowing the gaps and paving the ground for signing an agreement that can put an end to Iran's perennial nuclear problem".
Yet the regime does not trust the US.
IRIB repeatedly aired NBC's interview with US President Barack Obama in which he said: "We take no options off the table, including military options."
The clip of President Obama is followed by Supreme Leader Ayatollah Khamenei's speech a week ago in which he said: "On the one hand, they smile and they show interest in negotiations and on the other hand, they immediately say, 'All options are on the table'. So what? What move can they make against the Islamic Republic?"
However, Iran's newspapers and the people seem more optimistic about the talks.
The fact that negotiations have been prolonged and have attracted such high-ranking officials makes people more hopeful.
Apart from the hardline Kayhan newspaper, almost all moderate and reformist papers lead with positive headlines about the Geneva talks.
The angry opposition of Israeli Prime Minister Benjamin Netanyahu to any deal only proves that Iran is on the right path, they say.
People here are more optimistic than the politicians and experts.
Majid, an IT engineer, said: "After 10 years of beating around the bush they are really talking to each other now. It is time to fish or cut the bait."
Iran's financial markets are the best political thermometer to show in which direction society here is moving.
Foreign exchange rates dropped this morning and the price of gold coins has started to dip.
An economist who asked not to be named told me: "The main reason for the reaction of the market is that people feel something serious is going on, real negotiations are taking place.
"Apart from any results that may come from it, people needs certainty, stability."
People in Iran are closely watching whether their diplomats can open a pathway out of this long-standing dispute.
Many believe Iran can breathe easily again.