What's become of Egypt's Morsi?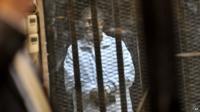 Egypt's ousted President Mohammed Morsi has been sentenced to death for his involvement in mass jail breaks during the 2011 uprising.
He was also sentenced to 20 years in prison after being convicted of ordering the detention and torture of protesters in 2012.
Morsi was overthrown by the military in July 2013 following mass protests a year after he took office as the country's first democratically elected leader.
How did he end up in court?
Morsi was elected president a year after an uprising brought an end to Hosni Mubarak's 30-year rule. During his 12 months in power, Morsi was seen by many Egyptians as preoccupied with establishing political control rather than tackling economic and social problems.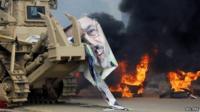 On the first anniversary of his taking office, opponents of Morsi organised demonstrations that saw millions take to the streets to demand his resignation. Three days later, then military chief - and now president - Abdul Fattah al-Sisi overthrew Morsi.
The interim authorities subsequently launched a crackdown on Morsi's supporters, in which more than 1,400 people were killed and thousands detained.
Morsi and his top advisers were held incommunicado by the military for several months before prosecutors began filing charges against them. He has since been detained at a high-security prison near the Mediterranean city of Alexandria.

What has he been convicted of?
Morsi and 14 other senior Muslim Brotherhood figures went on trial in November 2013, accused of inciting their supporters to murder a journalist and two opposition protesters, and ordering the torture and unlawful detention of others, in clashes outside the Ittihadiya presidential palace in Cairo in December 2012.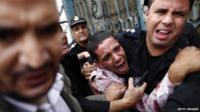 The protesters were demonstrating against a constitutional declaration issued by Morsi granting himself far-reaching powers. As the crowd outside the palace grew, Morsi ordered the police to disperse them. Officers refused, so the Brotherhood brought in its own supporters to try to quell the unrest. The ensuing clashes left 11 people dead, most of them Brotherhood supporters.
On 21 April 2015, Morsi and the other defendants were acquitted of inciting murder - a charge that carries the death penalty - but were found guilty of ordering the torture and detention of protesters. The majority of the defendants, including Morsi, were sentenced to 20 years of hard labour. The others were given 10 years.
On 16 May, Morsi and more than 100 other people were given death sentences for their role in a mass prison break in 2011. Morsi was accused of colluding with foreign militants to free Islamists from jail.

What about the other trials?
Morsi faces separate trials on the following charges:
Espionage and conspiring to commit terrorist acts in Egypt's Sinai Peninsula with the Palestinian movement Hamas, Lebanon's Hezbollah and Iran's Revolutionary Guards
Endangering national security by leaking state secrets and sensitive documents to Qatar, which supported him as president, and the Doha-based Al Jazeera network
Fraud in connection with the Muslim Brotherhood's economic and social programme for Egypt's recovery, called Renaissance (al-Nahda)
Insulting the judiciary by naming a judge in a public speech and accusing him of overseeing fraud in previous elections

What does Morsi say?
Morsi has rejected the authority of the courts.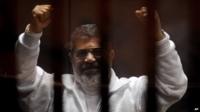 At the start of his first trial, he shouted from the dock that he was the victim of a "military coup".
"I am the president of the republic, according to the constitution of the state, and I am forcibly detained," he asserted.
Since then, Morsi has been forced to sit in soundproof glass cages in courtrooms, which officials say are designed to prevent him disrupting proceedings.

Are these show trials?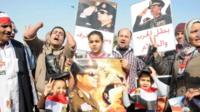 The prosecution of Morsi is taking place amid a wider crackdown on the Muslim Brotherhood, which President Sisi has vowed to wipe out.
Morsi's supporters have said the trials are politically motivated and attempts to give legal cover to a coup. They claim they are based on unreliable witnesses and scant evidence.
Human rights activists have said Morsi's right to prepare an adequate defence has also been undermined.
Last year, the UN warned that Egypt had "a judicial system where international fair trial guarantees appear to be increasingly trampled upon" after more than 1,200 people were sentenced to death in two mass trials "rife with procedural irregularities".

Could Morsi be executed?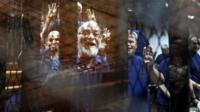 Judges have already sentenced to death several other senior figures in the Muslim Brotherhood, including its general guide, Mohammed Badie. However, none have so far been executed.
All death sentences must first be sent to the grand mufti, Egypt's highest religious authority, for his opinion on whether they should stand. But even when the grand mufti gives his approval, convictions are still open to appeal.
Experts also believe a death sentence for Morsi would be unlikely to be carried out. H A Hellyer of the Brookings Centre for Middle East Policy told AFP news agency it would "represent an escalation by the Egyptian authorities that they do not appear willing to engage in".

What's happened to Hosni Mubarak?
Mr Mubarak was charged with conspiring in the killing of hundreds of protesters during the 2011 uprising. He was found guilty and sentenced to life in prison in 2012, but the Court of Cassation overturned the conviction and ordered a retrial in 2013. The charge was eventually dropped in November 2014.
Mr Mubarak was also cleared of embezzlement on appeal in January 2015. He is residing in a military hospital in Cairo, where he had previously been detained.