Syria crisis: Where key countries stand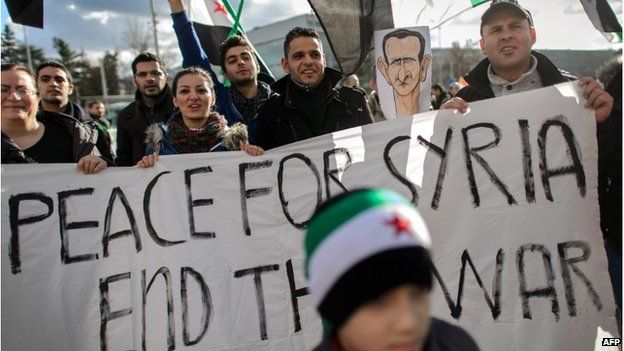 The eruption of civil conflict in Syria in 2011 very quickly provoked a deep split in the international community over which side to back and what outcome to seek.
With Syria regarded as the world's most pressing crisis, the US and Russia, along with other permanent members of the UN Security Council, Turkey and Arab states, have attempted to resolve their differences.
Their Geneva Communique, which calls for a transitional government based on "mutual consent", has become the basis for peace talks in the Swiss city. But it is clear the sides have different interpretations of the plan, and have so far failed to achieve a breakthrough.
US
The United States has been one of the most prominent advocates of firm action against the Syrian government, which it has accused of using chemical weapons and other atrocities.
In September 2013 President Barack Obama sought Congressional support for military action but postponed the vote - which was not certain to pass - when Syria indicated it would surrender its chemical stockpile.
Although it has stopped saying so, the US wants Bashar al-Assad out of power, and is pushing for the transitional government called for in the Geneva communique.
It is backing Syria's "moderate opposition" with "non-lethal" assistance, including communications equipment, generators, and office supplies - but is also believed to be supplying light weapons.
Russia
Russia is one of Mr Assad's most important international backers and has warned the US and its allies against taking one-sided action against Syria.
President Vladimir Putin wrote that "a strike would increase violence and unleash a new wave of terrorism".
Russia was key to Syria agreeing to give up chemical weapons, and backs the Geneva Communique. But it has repeatedly said Syria's future should be decided by Syrians and blocked anti-Assad resolutions at the UN Security Council. It continues to supply Syria with arms, including missile systems and aircraft.
UK
Britain has been a big critic of the Assad government and signed a statement in 2013 calling for a "strong international response".
Prime Minister David Cameron said he supported military action but had to rule out Britain's involvement when he failed to secure the backing of parliament in August 2013.
In May the same year the UK, along with France, successfully lobbied for the EU's arms embargo to be lifted so as to allow further supplies to Syrian rebels.
France
France has been among the most hawkish Western countries and was the first to stop recognising the Syrian government and deal with the main opposition coalition instead.
President Francois Hollande was lining France up to join US military action until plans were put on hold. The president acknowledged that France could not, and would not, act on its own.
China
China has joined Russia in blocking resolutions critical of Syria at the UN Security Council. It has criticised the prospect of strikes against Syria, insisting any military action without UN approval would be illegal.
Turkey
The Turkish government has been one of the most vocal critics of Syrian President Assad since early on in the uprising and signalled its willingness to join international action even without UN approval.
Arab States
Saudi Arabia has been a rival of the Syrian government for years. It has been particularly active in pushing for action against Mr Assad, and called for "all legal means possible" to be used to stop the bloodshed.
Qatar is thought to be one of the main suppliers of weapons to Syrian rebels and says outside military intervention has become a necessity to protect the Syrian people.
In Lebanon there is deep division between supporters and opponents of President Assad. The country has suffered from an overspill of violence, including bomb attacks, as well as a huge flood of refugees. It has said it thinks military intervention might make the situation worse.
Jordan has also received hundreds of thousands of refugees and has called for a political solution to the conflict.
Iran
Iran has been Syria's main backer in the region since well before the current conflict. Iranian-backed Hezbollah guerrillas have been fighting alongside Syrian government forces. Iran has warned that any foreign intervention risks sparking a regional war.
Israel
Israel regards President Assad as an enemy, but has refrained from publicly backing military action against him. It fears its backing could alienate the Arab world, and perhaps give Hezbollah an excuse to attack it.