Profile: Hassan Rouhani, President of Iran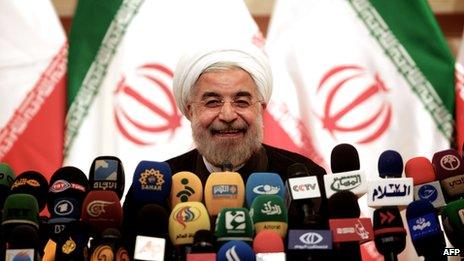 Hassan Fereydoon Rouhani, 64, was elected president of Iran in June 2013 - the only cleric to contest the poll. His campaign slogan "moderation and wisdom" continued to be a theme at his inauguration in August.
Despite being very much part of the Islamic Republic's establishment, his promises of reform, of working to ease sanctions, of helping to free political prisoners, of guaranteeing civil rights and a return of "dignity to the nation" drew large crowds when he was on the campaign trail.
He criticised the direction Iran was heading on issues such as the nuclear stand-off with world powers, damaging international sanctions, the dire state of the economy and Iran's extreme isolation in the international community. His criticisms struck a chord with many voters.
The endorsement of former presidents Mohammad Khatami and Akbar Hashemi Rafsanjani helped secure Mr Rouhani's victory - and some high expectations.
The runner-up in the elections came a distant second, although Mr Rouhani himself won just enough votes - 50.7% - to avoid a run-off.
Mr Rouhani's confirmation by the conservative Guardian Council, a powerful 12-member body that decides which candidates are qualified to run, was equally narrow.
'Diplomatic sheikh'
Hossein Mousavian, a former Iranian diplomat who served in Mr Rouhani's nuclear negotiating team, told the BBC he would live up to his nickname "the diplomat sheikh", an allusion to his reputation as Iran's chief nuclear negotiator.
"He has a good sense of humour," Mr Mousavian explained. "His school of thought is completely moderate and centrist. He has always tried to unify the country."
Unity was a theme taken up in Mr Rouhani's inauguration speech to parliament on 4 August and the desire to govern in the name of all Iranians.
"All of those who voted, whether they voted for me, someone else, or even if they didn't vote, all of them are Iranian citizens and have citizenship rights," he said.
But some, like Seyed Mojtaba Vahedi, remained unconvinced. He is a former adviser to Mehdi Karroubi, one of the reformist candidates in the 2009 elections who remains under house arrest after challenging the outcome,
"I don't believe he is a moderate, he is too close to the hardliners," Mr Vahedi said. "He is close to [the Supreme Leader, Ayatollah Ali] Khamenei. Rouhani will not be allowed to solve the nuclear issue. Nobody can do anything without the supreme leader's permission."
After succeeding Mahmoud Ahmadinejad as president, Mr Rouhani declared that he wanted a substantive deal on Iran's nuclear programme within "three to six months".
He stressed that he had "full power and complete authority" to negotiate with the P5+1 - the US, UK, France, Russia and China, plus Germany. He had earlier persuaded Ayatollah Khamenei to transfer responsibility for nuclear talks to the foreign ministry, which is led by the US-educated former diplomat, Mohammad Javad Zarif.
Later that month, Mr Rouhani and US President Barack Obama became the first leaders of their countries to speak to each other since 1979. In a telephone conversation, they agreed to accelerate efforts to find a comprehensive solution to the nuclear crisis.
Nuclear negotiator
Hassan Rouhani has been a key figure in Iran's political life since the revolution in 1979 which established the country as an Islamic republic.
He was also an influential figure during the Iran-Iraq War.
Before his election, Mr Rouhani had held several important political and security posts, making him an influential figure in Iran's decision-making process on issues of national security and foreign policy.
He served as deputy speaker of parliament between 1996 and 2000, as secretary of the Supreme National Security Council between 1989 and 2005, and in 1997 became a member of the Expediency Council, an advisory body with ultimate adjudicating power in disputes over legislation.
Former British Foreign Secretary Jack Straw remembers meeting Mr Rouhani when he was Iran's chief nuclear negotiator, and formed a favourable impression.
"Mr Rouhani was courteous, engaging, very straightforward, with a nice smile playing on his lips," Mr Straw told the BBC.
"He was absolutely on top of his brief and seemed to have the confidence of the Iranian leadership."
Iran's supreme leader repeatedly expressed his dissatisfaction with what he regarded as Iran's conciliatory approach during those negotiations.
At the time Iran was negotiating with the British, German and French governments, and eventually agreed to suspend its uranium enrichment programme and allow tougher UN inspections of its nuclear facilities.
"Rouhani was plainly anxious to bring about a settlement of the long-running conflict between Iran and the West," Mr Straw said.
The suspension ended on the first week Mahmoud Ahmadinejad took office. Mr Rouhani was replaced by one of his critics, Ali Larijani, who himself fell out with Mr Ahmadinejad two years later.
Indeed, Mr Rouhani has been openly critical of the outgoing president, saying Mr Ahmadinejad's "careless, uncalculated and unstudied remarks" have cost the country dearly.
In his swearing-in speech, the new president alluded to Iran's problematic relations with the West and spoke of building mutual trust.
"This way, we will improve our national and regional security. Transparency is the key to open a new chapter in mutual trust. And the transparency we are talking about cannot be a one-way transparency, without practical measures in our bilateral and multinational relations."
Uphill challenge
During the presidential campaign, Mr Rouhani was highly critical of a crackdown on pro-reform students in 1999. However, this was in stark contrast with the tough stance he took against the protesting students at that time - causing many dissidents to remain cynical about his reformist credentials.
Mr Rouhani called his presidential election win a "victory of moderation over extremism". His success was partly owed to another reformist candidate, Mohammad Reza Aref, dropping out of the race in Mr Rouhani's favour after supporters called on the two to form a coalition.
In the days leading up to his inauguration, Mr Rouhani was involved in intense talks with the supreme leader over cabinet appointments. But he succeeded in including several moderates in the government list presented to parliament.
Hardliners in Iran initially welcomed the "people's choice" but in the weeks leading up to Mr Rouhani's inauguration warned him against associating with dissidents involved in the 2009 street protests. Mr Rouhani has been careful to keep a politically acceptable distance from such dissidents.
Mr Rouhani has cautioned that there will be "no overnight solutions" to Iran's many problems, but both camps wait to see how much change he is prepared - or able - to bring to the country.