Egypt paper stands by Mubarak 'interview'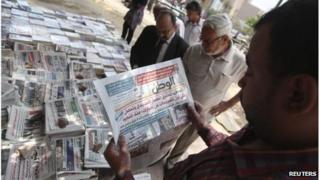 An Egyptian newspaper is standing by its report of what it says is the first interview with ex-President Hosni Mubarak since his overthrow, despite a denial by Mr Mubarak's lawyer.
Al-Watan says one of its journalists spoke to Mr Mubarak in the court where he is being retried in connection with the killings of protesters in 2011.
Mr Mubarak is said to have voiced sympathy for President Mohammed Morsi.
His lawyer however says Mr Mubarak denies any such interview took place.
The story of the interview was published on Sunday under the headline "Al-Watan breaks through the iron siege and gets the first interview with Mubarak since he stepped down".
The journalist, Mohammed el-Sheik, said he had spoken to Mr Mubarak in a side room without revealing who he was.
'Very sad'
According to the report, Mr Mubarak, 85, was reluctant to comment on his Islamist successor, but said it was too soon to judge him.
"I do not want to talk about that subject, but in the end, he's a new president who bears heavy responsibilities for the first time, and who shouldn't be judged for the moment," Mr Mubarak is quoted as saying.
Mr Mubarak, the report says, told Mr Sheik he was "very, very sad" about the plight of poor Egyptians, who are struggling with massive unemployment, high prices and fuel shortages.
He is also said to have warned about the consequences for ordinary Egyptians of tough conditions attached to a $4.8bn (£3.1bn) loan which is being negotiated with the International Monetary Fund.
The paper said Mr Mubarak had expressed dismay about the deterioration of security in Egypt and believed his rule would be deemed in the future to have been fair.
"I have said in the past that history would bear witness and judge, and I am still certain that future generations will judge me fairly," he is quoted as saying.
The newspaper published photographs of Mohammed el-Sheik inside and outside Mr Mubarak's helicopter. Mr Sheik said he had not recorded the interview because of the risk of getting caught.
'Fabricated'
After the story was published, Mr Mubarak's lawyer Farid al-Deeb said it was not genuine, and the quotes had in fact been taken from him.
"The interview is fabricated, it never took place," AFP news agency quoted Mr Deeb as saying.
"These quotes, I said them on television, on behalf of the president."
However, the newspaper remained adamant that the interview was authentic.
"The meeting took place, the photos within the story are genuine and we have more than one piece of evidence," al-Watan's news editor Mahmoud Mousallam told the BBC.
"Our journalist took a chance, he informed us the night before that this what he intended to do and he actually did it, he spoke to him [Mubarak] in the room adjacent to court."
Mr Mousallam said security cameras had footage of Mohammed el-Sheik approaching Mr Mubarak and speaking to him, although the footage has not been released.
Al-Watan was established a year ago and is one of the biggest five local, privately owned newspapers in Egypt. It has a reputation for criticising President Morsi's Muslim Brotherhood movement and is owned by Mohamed el-Amin, a businessman with some ties to the former government.