Five Iraqi police die in Mosul suicide car bombing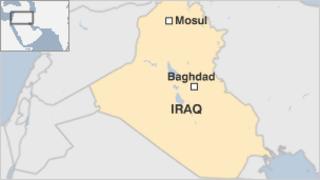 Five police officers have been killed in a suicide car bombing in northern Iraq, say police and a doctor.
The bomber detonated his explosives close to a police facility in the city of Mosul at about 12:30 (09:30 GMT), police said.
A doctor confirmed the death toll. At least eight others were wounded.
Although sectarian violence has decreased in Iraq since the height of the insurgency in 2006 and 2007, bombings and shootings remain common.
There has been a string of bomb attacks across Iraq in recent months.
Sunni insurgents linked to al-Qaeda have been blamed for much of the recent violence.