Barcelona to play Middle East 'peace' match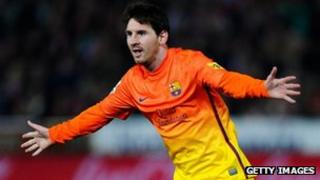 Barcelona are set to play a "bridge-building" football match against a team of Israelis and Palestinians.
Israeli President Shimon Peres and Barcelona's president Sandro Rossell said the game would take place in Israel's Ramat Gan stadium on 31 July.
Support for the Spanish mega-club unites football fans on both sides of the Israel-Palestinian conflict.
The announcement came during Mr Rossell's first visit to Israel and the West Bank.
He said: "Barca wants to make a modest contribution to build bridges of understanding and harmony between the Israeli and Palestinian people through sports and education."
It is not yet know who will make the one-day trip for Barcelona, but there are high hopes that star striker Lionel Messi will be among the visitors.
The exhibition game will bring together top Israeli and Palestinian players to face the Barcelona side, says the BBC's Yolande Knell in Jerusalem, although the team's composition has yet to be confirmed.
An aide to Mr Peres told Israel's Ynet news that such a game "could promote peace".
Mr Rossell will meet Palestinian Authority President Mahmoud Abbas on Friday, when it will be established whether the team will include Palestinian, as well as Israeli, national players.
Last year the Spanish club inadvertently became embroiled in Middle Eastern politics when Gilad Shalit - the former Israeli soldier held by Palestinian militants in Gaza for five years - was a guest at its Nou Camp stadium for a match against archrivals Real Madrid.
Amid Palestinian anger, an invitation was also extended to a footballer on their national side - Mahmoud al-Sarsak, who had recently been released having spent three years in an Israeli jail without charge - but he chose not to attend.
Last year the Palestinian Football Association (PFA) unsuccessfully lobbied European football's governing body, Uefa, to stop Israel from hosting the continent's 2013 under-21 championship over the issue of Palestinian players in Israeli detention.
Palestinian Olympic squad goalkeeper Omar Abu Rois and Ramallah player Mohammed Nimr are currently being held in Israel without trial.