Israel treats wounded seven Syrians as 'exceptional' case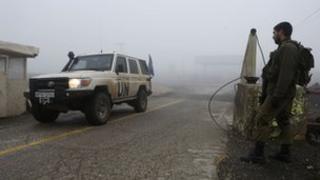 Israel has said that it will allow people to cross its ceasefire line with Syria "in exceptional cases" after it accepted seven wounded Syrians for hospital treatment on Saturday.
The Prime Minister, Benjamin Netanyahu, made the comment at a cabinet meeting.
Israeli troops in the occupied Golan Heights took seven people to hospital in the northern city of Safed.
It was the first time that Syrians caught up in clashes were allowed to cross the armistice line.
"We will continue to watch over the border and prevent anyone from crossing it and entering Israel except in a few isolated and exceptional circumstances - each of which will be weighed on its own merit," Mr Netanyahu said.
The Israeli military said that soldiers gave preliminary first aid to the wounded Syrians.
One was said to be in a critical condition but has stabilised, a spokesperson for Ziv Medical Centre in Safed told the BBC. The other six had moderate injuries.
"All of them are being kept in isolation but they are being treated the same as any other patient," the spokesperson added.
No details are being given about the nature of the wounds. It is also not clear whether the individuals are members of the Syrian military or opposition forces.
Mr Netanyahu said that "the crumbling of the regime in Syria" would be a key issue in talks with US President Barack Obama when he visited Israel next month.
'Ready for dialogue'
In a separate development on Sunday, UN-Arab League peace envoy Lakhdar Brahimi called for international backing for a Syrian opposition offer to negotiate with some government officials.
Mr Brahimi proposed the talks should take place at the UN headquarters.
He said a proposal from the Syrian National Coalition "opened the door and challenged the Syrian regime to confirm what it constantly says about being ready for dialogue".
The envoy was speaking at a news conference in Cairo after meeting the head of the Arab League, Nabil al-Arabi.
The Syrian National Coalition, led by Mouaz al-Khatib, has offered to meet figures in President Bashar Al-Assad's government who do not have "blood on their hands".
The crisis in Syria threatens to have a destabilising effect on all of its neighbours as violence spills across borders and hundreds of thousands of refugees have fled the bloodshed.
However Israel has a particular set of concerns. Technically, it remains in a state of war with Syria and continues to occupy the Golan Heights - Syrian territory which it captured in 1967 and later annexed, in a move that is not internationally recognised.
Under President Assad, there has been an informal truce.
Israel has said its policy is not to get involved in the Syrian conflict. However, in recent months it has retaliated when there has been Syrian fire into Israeli-controlled areas.
There has been reinforcement of a fence that runs along the armistice line. Officials say Syrian refugees will not be allowed into Israel en masse.