Bahrain policeman jailed for death of protester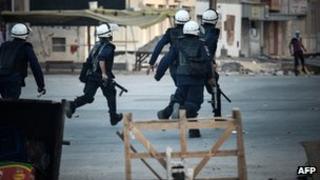 A Bahraini police officer has been jailed for seven years for killing of an anti-government protester.
Ali Abdulhadi al-Mushaima died on the 14 February 2011, the first fatality in a wave of unrest that swept the Gulf island kingdom.
Mr Mushaima was hit at close range by birdshot in the Sanabis district of the capital city Manama.
His family say that he was standing outside his home when the officer opened fire without provocation.
The police version of the incident states that the officer, who has not been named by the authorities, fired in self-defence.
"In dealing with one of the instances of rioting in the area, the accused fired from a birdshot gun, injuring the victim with wounds that claimed his life," Nawaf Hamza, head of the Public Prosecution's Special Investigation Unit, was quoted as saying.
A second man died the following day when police used tear gas and stun grenades to disperse protesters at Mr Mushaima's funeral.
That police operation to clear protesters from the iconic Pearl Roundabout on 17 February 2011 led to further deaths. Protests have continued since. At least 60 people have died and hundreds more have been injured.
Several prominent pro-democracy activists and political leaders are in jail sentenced to terms ranging from five years to life on charges of plotting the overthrow of the government. Many of the convictions were reached on the basis of confessions secured under duress.
Bahrain is ruled by a Sunni Muslim royal family and has a majority population of Shia Muslims who are politically and economically marginalised. It is also home to the US Fifth Fleet and a close ally of the United States.