Mid-East press mulls Netanyahu 'failure'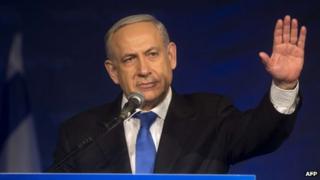 Newspapers in Israel see the result of the general election as a resounding blow to Prime Minister Benjamin Netanyahu, despite the narrow victory of his right-wing Likud-Beitenu alliance.
One commentator called it a "painful slap in the face", while others put the blame squarely on him. A newspaper supportive of Mr Netanyahu, however, argued that Israelis still wanted him to stay in office.
Palestinian newspapers, meanwhile, expressed fear that the result made a peace agreement with Israel more distant and war was even possible.
Editorial in left-of-centre Haaretz
"Yesterday, Israel expressed no confidence in Prime Minister Benjamin Netanyahu. After four years at the country's helm, together with his natural partner, [Yisrael Beitenu leader] Avigdor Lieberman, Netanyahu lost about a quarter of his strength despite - or perhaps because of - the merger with Lieberman. Netanyahu, Israelis said yesterday, has failed."
Aluf Benn in Haaretz
"Benjamin Netanyahu's election campaign failed because he had nothing much to say. The world-champion orator and king of political survivors lost his connection with the public mid-term and has been coasting ever since in the absence of a serious challenger. He did not offer any hope to Israelis, he conducted a pathetic campaign, and instead of issuing a platform made do with promising to be a "strong prime minister"... The agreement with Avigdor Lieberman presumably helped the prime minister retain his post, but only after a painful slap in the face from voters."
Nahum Barnea in centrist Yedioth Aharonoth
"Netanyahu is a tragic figure. Twice he achieved power and twice voters decided to sum up his tenure with a humiliating blow. Not because he is such a bad prime minister, but because he makes himself loathsome to the public again and again with his moves and conduct."
Yoaz Hendel in Yedioth Aharonoth
"At the end of the democratic celebration, we are left with a feeble leader of a weak party. In summary, the political right-wing has won yesterday's elections and not because of Netanyahu, but because of reality."
Shalom Yerushalmi in centrist Maariv
"Netanyahu wanted to be a strong prime minister, but he will become the weakest prime minister in the history of the state... There is almost no chance of political progress or socio-economic change given this state of affairs."
Zalman Shoval in pro-Netanyahu Yisrael Hayom
"People have had their say, and it is clear: Benjamin Netanyahu will be the next prime minister, and no opposition bloc, not even a bloc which includes the parties of Israel's enemies, can prevent this. In fact, Netanyahu will have no real rival for the position of prime minister, but the decline in the number of his faction's representatives could make the job of forming the government difficult."
Gil Hoffman in right-of-centre Jerusalem Post
"[Netanyahu] was the one who decided to unite Likud with Yisrael Beitenu despite the likelihood that Lieberman would be indicted [breach of trust in December]; he determined how to spend the campaign's bursting budget; and he chose when to attack political opponents and when to hold fire. The results of the race, at least according to the exit polls, indicate that Netanyahu was wrong on all counts... Unfortunately for Netanyahu, he became his own worst enemy."
Editorial in Jerusalem-based, pro-Fatah Palestinian paper Al-Quds
"These are the first elections in which the right and radical right are so clearly and strongly competing against each other to the extent that it is possible to say without any exaggeration that this will be the official end of the so-called two-state solution. This will also be the end of any prospect for any kind of political solution."
Husam al-Dajani on Hamas-run, Gaza-based news website Filastin
"The hostile policy of 'Israel' is a precondition for its existence and for overcoming its identity crisis. Based on this, the future after the Zionist elections will contain the foundations of a regional war, which Israel needs in order to restore its domestic unity."
BBC Monitoring reports and analyses news from TV, radio, web and print media around the world. For more reports from BBC Monitoring, click here. You can follow BBC Monitoring on Twitter and Facebook.