Iraq violence: Police general shot dead in Baghdad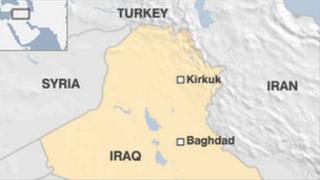 Five security forces members, including two senior officers, have been killed in a series of shootings and bombings in Iraq, officials say.
Police Brig-Gen Nadhim Tayeh was driving to work in the capital Baghdad when gunmen fire on his car. Later, an army colonel died in a bombing.
In the northern city of Kirkuk, three policemen were killed and six others were wounded by a bomb explosion.
On Tuesday, at least six soldiers died in attacks across the country.
Four, including another colonel, were killed when gunmen ambushed the officer's convoy just north of Baghdad.
The deaths took to 270 the number of people killed so far in August, including 106 members of the security forces, according to the AFP news agency. Last month more than 240 people were killed in militant attacks.
Sunni insurgents linked to al-Qaeda appear to have been behind most of the recent violence, including a wave of bombings and shootings in Baghdad and towns to the north on 23 July which left at least 107 dead.