Syria violence fuels Lebanon kidnap drama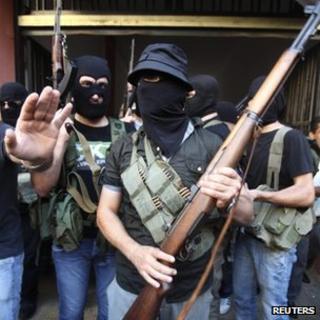 For many years Beirut has been a vantage point from which journalists and analysts watched and reported the news from the wider Middle East.
Now, suddenly, it is in the news again for the first time in a long time.
Television bulletins here are dominated by reports of a hostage-taking drama which is providing a sharp reminder of Lebanon's deep and inextricable links to the crisis in Syria.
It began when rebels in Syria detained a Lebanese Shia, Hassan al-Mekdad, and accused him of being a member of the Shia militant group Hezbollah who had entered the country to fight for the government of President Bashar al-Assad.
Mr Mekdad, though, is a member of a heavily-armed Shia clan with smuggling interests in the east of Lebanon and they are angrily determined to get their man back.
They have rounded up dozens of Sunni Muslims in Lebanon, including a number they accuse of membership of the Free Syrian Army.
One of the captives says he is a captain responsible for running supplies across the border into Syria.
Sectarian logic
The Mekdads - like many people in Lebanon - view the Syrian conflict through a straightforwardly sectarian lens.
They recognise that Syria is - or was - a secular republic, but in their view this is about Sunni Muslim rebels trying to unseat a man whose Alawite faith makes him part of the spectrum of Shia Islam.
They can point to other examples where Shias - both Lebanese and Iranian - have been taken captive in Syria.
Their remedy is simple. Take Sunnis hostage in Lebanon.
At least four Gulf Arab states are obviously worried enough to tell their citizens to get out of Lebanon.
They are Sunni Muslim countries who support the Syrian uprising - so the Mekdad clan see it as legitimate to take their citizens hostage as a means of applying pressure to the rebels.
It seems Turkey, which is hosting and backing large numbers of rebels, is the Mekdads' particular target - one of their hostages is a Turk and they've threatened to kill him if Hassan Mekdad is harmed in Syria.
Exporting crisis
So is this the moment when the Syrian crisis spills out into the wider region, exporting its dangers and its instabilities?
No-one knows for sure, of course, but it does seem that there are reasons to hope it won't be.
Lebanon and Syria emerged together from French colonial rule and have similar patchwork populations of different religious groupings, so it would be easy for tensions to bleed over the border from Syria into Lebanon.
There have been clashes between rival Lebanese ethnic groups at moments of particular tension in the Syrian crisis.
And of course the Syrian army occupied part of Lebanon for 30 years from 1976 onwards, exercising huge influence over the country's political life.
Rami Khouri, one of Beirut's most influential journalists and political analysts, says outsiders should look at this latest round of hostage-taking in the context of that long and fraught relationship, rather than simply in the context of the Syrian civil war.
"The issue of spillover is there and the current situation has aggravated spillover issues," he told me.
"But that's really because for decades Lebanon has been a shock absorber for Syria. It didn't grow out of this current crisis."
Attempts at mediation
The dramatic calls for citizens of Gulf states to leave Lebanon and the sudden escalation of the hostage crisis have drawn attention to Lebanese links to the crisis but it is worth bearing in mind that the Mekdad clan isn't making any demands beyond the release of its man in Syria.
The situation could be resolved with a prisoner swap - possible attempts at mediation are already under way.
And, of course, the possibility that the Assad regime might attempt to regionalise the crisis with attacks beyond its own borders has been discussed since the early days of the uprising in Syria.
There was speculation that Damascus could stage some sort of diversionary attack on the Golan Heights, historically Syrian territory which has been occupied by Israel since it captured the land during the Six Day War in 1967.
Or it could increase the flow of arms to Hezbollah, the Shia militia in southern Lebanon which has the capacity to attack Israel from the north.
So far, though, those things have not happened - and the more the Syrian army gets bogged down in fighting the rebels, the less energy it will have for those sort of diversionary adventures.
The hostage crisis is serious - and the threat to the Mekdads' Turkish prisoner will cause deep anger in Turkey.
But there are reasons to hope that the problems can be contained and that, for now at least, the crisis in Syria will remain more or less confined within its own borders.