Egyptian and Israeli press welcome Sinai offensive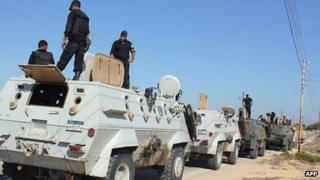 The Egyptian and Israeli media have largely applauded the Egyptian army's offensive in the Sinai peninsula, launched after a militant attack on 5 August which killed 16 Egyptian border guards.
Commentators in Egyptian newspapers voice support for the army's mission to restore security, while some Israeli writers view it as a test for the country's new president, Mohammed Mursi.
Egyptian press
Editorial in Al-Jumhuriyah
Anger and pain are not sufficient to confront such a horrible crime whose perpetrators should pay a dear price. This is the mission of the armed forces which are currently working in Sinai to eradicate the dens of terrorism, exterminate the criminals and impose full control over the entire land of the country.
Makram Muhammad Ahmad in Al-Ahram
Nobody would disagree that ultimate priority should be given to the issue of bringing back Egypt's security… because in the absence of Egypt's security it is difficult to achieve stability.
Sharif Riyad in Al-Akhbar
Operation Eagle should extend to destroy all the tunnels leading to the Gaza Strip. It should continue until this whole issue is closed. The entire people stand by their armed forces, supporting and encouraging them.
Israeli press
Editorial in the Jerusalem Post
Above all, this is a test for Egypt's new president, who also happens to be leader of the Muslim Brotherhood. Now is the time for him to choose the West over Iran and strengthen ties with Israel to combat our common enemy: terrorism. If Mursi can restore calm on the Egyptian-Israeli border, the impact on the whole region will be enormous.
Dr Dani Asher in Ma'ariv
The effort of Mohammad Mursi, the inexperienced president, to supervise and restore order in the north-eastern part of the Sinai Peninsula is the first real test of the new "ruler"… The operation in Sinai is a golden opportunity for the army to show its power… It cannot succeed as a one-off effort, only if pressure based on intelligence is maintained.
Yossi Beilin in Yisrael Hayom
The military operation Egypt carried out this week was a vital move for both Egypt and Israel, and it is a pity it was not done earlier… The emerging new situation obliges all of us to rethink the demilitarisation as a solution … The real interest of Israel is to give the Egyptian army the possibility of taking over the peninsula and preventing the Bedouins from doing what they like.
BBC Monitoring selects and translates news from radio, television, press, news agencies and the internet from 150 countries in more than 70 languages. It is based in Caversham, UK, and has several bureaux abroad. For more reports from BBC Monitoring, click here