Egyptian President Mursi's 100-day plan hits traffic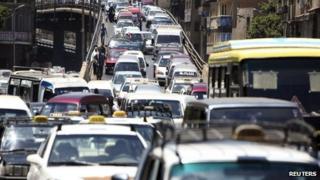 For newly elected presidents and prime ministers it has become something of a tradition to set themselves targets for their first 100 days in office.
The sensible ones might be advised to set the bar low, so as not to underachieve.
But Egypt's new President, Mohammed Mursi, has not followed such advice.
The country's first democratically elected head of state is a plain-speaking man and has set his 100-day priorities as tackling problems relating to bread, rubbish, fuel, security and traffic - all areas that impact greatly on the everyday lives of Egyptians.
But anyone who's been to the Egyptian capital, Cairo, will know that it is that last goal - easing traffic congestion - that is perhaps the most challenging.
'Hell'
Normal rules do not apply for the rush hour in this huge sprawling city. It can be seemingly endless, lasting throughout both day and night.
This week, shortly before 02:00, I found myself, hot and bothered in the back of one of Cairo's famous battered black-and-white taxis, inching forward, the skin on the back of my arms sticking to the cheap, cracked plastic seats.
Even at such a late hour, the cars were bumper-to-bumper, two-abreast, squeezed into each lane, the drivers trigger-happy on their horns.
As a radio reporter working here, you quickly realise that it is virtually impossible to record anything anywhere without the distant or not so distant sound of car horns somewhere in the background.
"Too much cars, too much cars," my driver muttered under his breath in broken English.
It is debatable, but Cairo has possibly the worst traffic in the world.
A journey of just a few kilometres can sometimes take more than an hour.
"Bad is an understatement," says Amra Imam, a newspaper columnist with the Egyptian Gazette.
"It takes hours for people to go to work, hours for people to get to hospitals in ambulances. It has a serious impact on people's mental health. It turns people's lives into hell."
Mr Imam says that earlier this year in the Giza district of Cairo he saw a woman die as her family tried to get to hospital by car but were unable to get through rows of gridlocked traffic.
"Traffic is not only stressful. It can be tragic too," he adds.
Economic cost
Mr Imam is sceptical that President Mursi and his new Prime Minister, Hisham Qandil, will be able to do anything to ease the congestion in his first 100 days. But there are some believers.
"It will be difficult, very difficult, but we have to try," says Hatem Abdul Latif, professor of traffic engineering at Ain Shams University in Cairo.
Mr Abdul Latif is an adviser to the president and has been charged with drawing up a 100-day traffic plan.
He says congestion is not only frustrating but also bad for business and hugely damaging to Egypt's economy.
"Studies show that congestion in Greater Cairo costs the economy more than $2.5bn every year. There are no peak times for traffic in Cairo. At all times of day there is a peak."
Mr Abdul Latif says there are far more than two million cars in Cairo driving on a road network designed for less than half that figure.
I put it to him that some of the oldest cars, those most prone to breaking down and causing jams, should be taken off the roads.
"We have done this with taxis but I think to take all old cars off the road would not be very popular," he replies.
Instead, he has come up with a scheme that involves minor improvements to the road and bus networks, possibly having civil servants start work at different times of the day, and greater enforcement of traffic laws by getting more traffic police out on the streets.
"Driver behaviour - bad driving - is one of the biggest problems. We have to have good enforcement."
Going underground
In Cairo's famous Tahrir Square, birthplace of Egypt's uprising 18 months ago, there is evidence of that enforcement.
Locals say it is the first time since the uprising that so many traffic police have been back in square, struggling to marshal the masses.
But most drivers are not convinced it will make any difference.
"The traffic is a mirror of the society we live in," says Amra, a smartly dressed middle-aged man, as he winds down his window, letting out a welcome waft of air-conditioning.
He explains that the country has many big problems that built up over decades and will be almost impossible to fix.
Cairo does have an alternative to the car. Nearby, I duck down into one of the city's Metro stations.
The underground system is surprisingly modern-looking. As I descend the stairs, the August heat mercifully melts away. Some of the stations are air-conditioned.
But the relief is short-lived. As a train pulls up and the doors open, a rush of body heat is released as the crowds surge onto the platform. Cairo has only three lines and the carriages are usually full, commuters packed in elbow-to-elbow. It is just as congested as up on the streets.
Frustration
Mr Imam believes the traffic problem epitomises the huge challenges that Egypt faces after decades of decay.
"Over 30 years, Hosni Mubarak was promising people some sort of Nirvana and when he left people discovered that Mubarak was doing nothing but stealing people's money," he says.
"There was no investment in infrastructure. The roads are bad, sewage is a problem, food is a problem, and security is a problem."
I put it to him that people will need to be patient.
"People have been suffering from these problems for three decades. It is not easy to tell them to be patient for three decades more."
The young journalist's face is full of frustration as he talks.
He respects President Mursi's 100-day goals in principle, but believes Egypt's huge problems need something more like a 10-year plan.