Yemen's President Hadi restructures military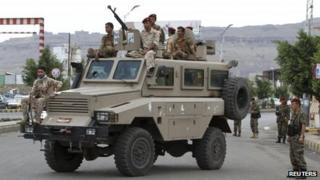 Yemen's President Abdrabbuh Mansour Hadi has ordered the restructuring of the military in an apparent attempt to curb the power of his predecessor.
Mr Hadi transferred the command of several Republican Guards' units to the new Presidential Protection Force.
Other units from the Republican Guards, commanded by former President Ali Abdullah Saleh's son Ahmed, were placed under different regional commands.
There is continued concern in Yemen over split loyalties in the military.
Troops are currently battling Islamist militants linked to al-Qaeda in the south, who took advantage of the instability resulting from the uprising that forced Mr Saleh to step down in November after 32 years in power.
He handed over power to Mr Hadi, his former deputy, as part of a deal brokered that gave him immunity from prosecution.
'Courageous'
The decree issued by President Hadi late on Monday created the Presidential Protection Force and transferred to its command three brigades of the Republic Guards.
The force will also include a brigade from the army's First Armoured Division led by Gen Ali Mohsen al-Ahmar, who supported opposition protests against Mr Saleh last year.
Mr Hadi also assigned other brigades from the Republican Guards and First Armoured Division to the central and southern regional commands.
Gen Ahmar welcomed the moves, describing them as "courageous".
"These decisions serve the nation, reunite units, restore discipline within the army and create suitable conditions to restructure the military," he was quoted as saying by the official Saba news agency.
Gen Saleh has yet to comment on the restructuring.
In April, his uncle Gen Mohammed Saleh al-Ahmar refused for several weeks to accept his dismissal as Yemen's air force chief after nearly three decades in charge. The head of the Presidential Guard, Gen Tariq Mohammed Abdullah Saleh, was also removed at the same time.
Abdul Ghani al-Iryani, an independent political analyst and president of the Democratic Awakening Movement, said last month that the president and his national unity government should end powerful officers' control over individual army units by removing them or rotating commands.
"The target should be placing military forces under presidential authority. Properly reforming and unifying the military could take years, so the most important step now is getting the military out of politics," he told the International Crisis Group.