Summit in West Bank scrapped as Israel bars envoys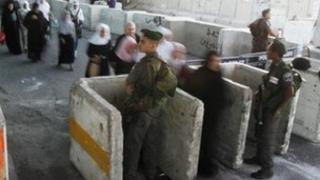 A meeting of Non-Aligned Movement countries in the West Bank has been cancelled after Israel refused entry to several foreign envoys.
An Israeli official said the envoys of Cuba, Indonesia, Malaysia and Bangladesh were denied transit as their nations do not recognise Israel.
All entry points into the West Bank require Israeli permission.
Envoys from 13 nations were to meet to discuss Palestinian plans for upgraded membership of the United Nations.
The 13 nations are members of the Palestine Committee of the Non-Aligned Movement, a 120-strong body of mainly Asian, African and Latin American countries.
Observer status
A senior Palestinian official told AFP news agency on Sunday: "After consultation between all the delegations in Amman (Jordan) and the Palestinian leadership, the Ramallah meeting of the Palestine Committee of the Non-Aligned Movement has been cancelled."
Earlier, a senior Israeli official told AFP: "A decision has been taken to bar the diplomatic representatives of several countries which do not recognise Israel from crossing the Israeli borders."
Algeria would also have been barred but earlier said it would not attend, as it wanted to avoid problems at the border.
Entry into the West Bank normally requires a flight into Israel and a journey by road, or via an Israeli-manned border checkpoint with Jordan.
The Non-Aligned Movement had arranged a helicopter flight from Jordan to Ramallah but that also requires Israeli permission.
The meeting was to discuss stronger Palestinian representation at the United Nations, a move both Israel and the US oppose.
The Palestinian Authority wants non-member observer status in the UN General Assembly.
President Mahmoud Abbas will address the General Assembly in September but no vote on the matter has yet been requested.