Palestinian killed at Jerusalem checkpoint 'targeted Israelis'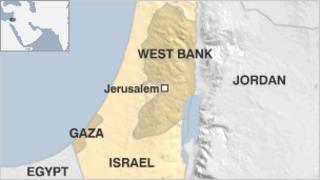 A Palestinian man has been killed and another wounded by Israeli border police at a checkpoint near Jerusalem.
A police spokesman said they had been travelling in a car that burst through the al-Zaim checkpoint at high speed on Monday and tried to run over officers.
The officers issued repeated warnings to the driver, the spokesman added.
However, Palestinian police said the car had entered the wrong lane and was reversing to go down the correct one when the Israelis opened fire.
Palestinian medical workers said the three men in the car had been travelling to pray at dawn in Jerusalem. The driver reportedly fled the scene.
An Israeli police officer was lightly wounded by shrapnel.