Damascus: 'City in grip of fear'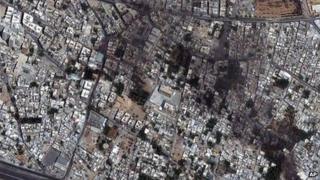 A day after the attack on the national security headquarters that killed three top officials, a Damascus-based reporter describes the fear and fighting on the streets of the Syrian capital.
The scene in Damascus is very different today - there is no movement in town, most shops are closed and there is a heavy sense of fear and tension.
There are very few cars on the streets and the number of pedestrians walking around can be counted on the fingers of one hand.
It looks like any Friday morning during these times of tension when people prefer to stay at home to avoid the gunfire. But, even on Fridays, some people would still go to cafes and some restaurants. This seems less likely today.
Most workers who come in from suburbs did not make it to work or were afraid to leave home. The suburbs are cut off and even in parts of areas close to the city centre like Midan, Zahera, Qaboun and Barzeh people either fled or were unable to leave their homes. The battle is now too close.
The killing of Defence Minister Daoud Rajiha, President Bashar al-Assad's brother-in-law Assef Shawkat and Gen Hassan Turkomani has shaken the country.
Many people believe this will weaken the regime from within, especially as it is believed an insider was behind it.
'City of refugees'
The whole city is shaken. Worried about passing any government building or checkpoint, people are choosing to stay at home instead.
Overnight, the sound of explosions and gunfire was heard in several areas, sometimes very close to the city centre.
The sounds of helicopters were also heard and eyewitnesses have said they saw aircraft firing towards the area of Kafr Sousa in Damascus. These reports have been confirmed by activists. There have also been reports of continuous shelling and firing from the air in Barzeh and Qaboun.
But, amid the explosions and sounds of helicopters, the sound of protesters calling on President Assad to leave and chanting support for areas under fire, like Midan, could also be clearly heard near the city centre.
Hundreds of people have fled their homes, seeking refuge in nearby schools.
Some houses in Damascus are now full of people who have left their own homes. This began with people fleeing Homs and Damascus suburbs like Douma, but now even people from city centre areas, like Midan, are arriving.
There is a serious humanitarian crisis in the capital, with hundreds of families needing accommodation and food.
Many undercover organisations have been helping out, but now they say they can no longer afford it. The Damascus businessmen who used to fund their operations are now themselves running out of cash.
Many believe the recent development is the beginning of the end.
But many are also convinced that the regime, with its fully fledged army, is still powerful. They fear the battle will be lengthy, with much bloodshed yet to come.