Alexandria: Deaths in Egypt building collapse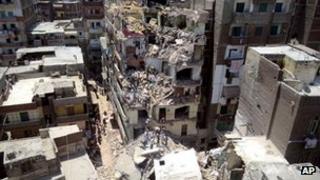 At least 10 people died in Saturday's collapse of a newly built 11-storey block of flats in Egypt's second city, Alexandria, officials have confirmed.
Rescuers searching for survivors under the rubble found 10 people dead, while five people were brought out alive, the health ministry said.
The collapse destroyed three neighbouring buildings.
Building collapses are not uncommon in Egypt because construction regulations are often ignored.
Residents said the construction quality of the block had been poor.
"The construction base of this building is not designed to take this number of storeys," a neighbour, Mohammed Ahmed, told the Associated Press.
"Lately, we have been hearing the sound of cracking in the building, and suddenly it collapsed."
At least 12 people died when a block of flats collapsed in Alexandria in 2008. Another 33 people were killed in a similar collapse in the city in 2007.