UN Syria mission should be reduced, Ban Ki-moon says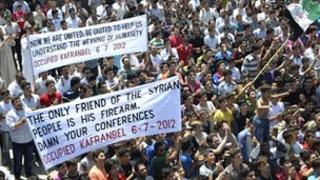 The head of the UN, Ban Ki-moon, has recommended that its mission in Syria should be scaled back and refocused on political mediation, after a UN-backed truce failed to take hold.
In a report to the Security Council, Mr Ban said the mission should concentrate on fostering dialogue instead of monitoring the truce.
Violence has escalated in Syria, despite the ceasefire agreed in April.
The 300-strong UN mission's mandate expires in two weeks' time.
The council is due to discuss the mission on Wednesday, ahead of a vote whether to extend its mandate on 18 July.
The UN secretary general's report suggests that the number of military observers be reduced, but not completely withdrawn.
The move is aimed at sending the message that the international community is not abandoning Syria, the BBC's Barbara Plett at the UN says.
Mr Ban also suggests that the mission should be based in the capital Damascus, rather than - as previously - in the field, where observers have faced frequent attacks.
The nominal ceasefire the mission was trying to monitor forms part of a six-point peace plan drawn up by UN and Arab League envoy Kofi Annan.
Last week, a meeting of key international and regional powers in Geneva agreed to call for a transitional government in Syria.
Some 15,800 people have been killed since the start of the anti-government uprising more than a year ago. The revolt is seen as becoming increasingly militarised.
'Defection'
On Friday, a Syrian general close to President Assad fled Syria via Turkey, according to his family.
Gen Manaf Tlas, a commander of a unit of the elite Republican Guard, has been under a form of house arrest since May 2011, because he opposed the government's determination to seek a military solution to the uprising, sources say.
If confirmed, it would be the highest-level defection since the unrest began.
A close friend of President Assad, Gen Tlas attended military training with him in his youth.
Speaking after a Friends of Syria meeting in Paris, French Foreign Minister Laurent Fabius said Gen Tlas' departure showed Mr Assad's entourage was realising the regime was unsustainable.
Initially, Mr Fabius said the general was on his way to Paris, but later added he had no indication of his final destination.
The general's father, former Defence Minister Mustafa Tlas, reportedly lives in France.
Unlike most of Syria's leaders, who are Alawites, Gen Tlas belongs to the majority Sunni Muslim community, which has been at the forefront of the revolt against the president.
News of his desertion coincided with a Friends of Syria conference in Paris, where 107 countries called for tougher sanctions on Damascus.
The group urged the UN Security Council to adopt urgently Mr Annan's six-point plan under an article of Chapter 7 of the UN Charter that refers to economic, diplomatic, travel and communication measures.
Russia and China, which did not attend the meeting, both hold vetoes in the Security Council.
Moscow sees President Assad's government as its main ally in the Middle East.
UN diplomats are working on a document calling for restrictions on commercial activity if Mr Assad fails to abide by Kofi Annan's ceasefire plan and roadmap for a political transition.
Western powers believe that Mr Assad should play no part in Syria's future, but the roadmap allows Mr Assad an effective veto over any interim candidate he opposes.