Fresh bombing rocks central Iraq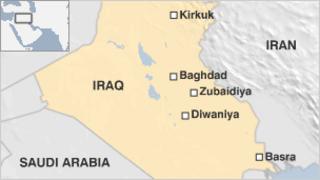 At least eight people have been killed in a car bombing in central Iraq, security officials and medics say.
Another 28 were wounded by the explosion at a market in Zubaidiya, a mainly Shia town in Wasit province, about 100km (60 miles) south-east of the capital Baghdad.
Two policemen and a parliamentary official were meanwhile shot dead in separate incidents in Baghdad.
On Tuesday, a series of bombings across Iraq left more than 40 people dead.
Most of the victims were killed in the southern town of Diwaniya when an explosives-laden lorry was blown up in a marketplace near a mosque.
Other attacks hit the nearby Shia holy city of Karbala.
The governor of Karbala said Sunni militant groups linked to al-Qaeda were trying to stop Shia pilgrims from carrying out rituals ahead of a religious festival on Friday.
Two blasts also hit a residential district in the predominantly Sunni town of Taji, just north of Baghdad, killing three people. Four also died in the central province of Diyala, which has a Sunni majority.
In a separate incident on Tuesday night an army major was killed during a raid on suspected al-Qaeda safe houses, according to the AFP news agency.
Whilst violence in Iraq is much lower than its peak in 2006 to 2007, attacks have spiked this year and have mostly targeted Shia pilgrims, security forces and officials.