Israeli policeman filmed kicking Palestinian boy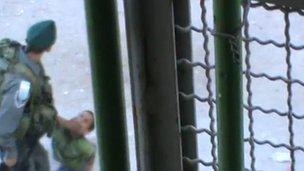 Israel's Border Police has launched an investigation after a video emerged showing one of its officers kicking a nine-year-old Palestinian boy.
The footage from the human rights group, B'Tselem , shows Abdul Rahman Burqan being held on the ground by one officer before he is kicked by another.
The incident took place on Friday in the West Bank city of Hebron.
A statement from the Border Police said it "views with gravity and condemns the behaviour of the policemen".
"It is important to note that this is an exceptional incident that does not represent the extensive activity of the combat border police troops to further the security of the state of Israel," it added.
Border Police commander Yoram Halevi has ordered the formation of a team to investigate the incident and report in the coming days.
Sources in the force told the Jerusalem Post there had been a large rise in the number of incidents of Palestinian youths throwing stones in Hebron. But they said there was no justification for the officers' conduct.
The cameraman, Raed Abu Rimle, told the Israeli newspaper Yedioth Ahronoth: "I heard yelling and I saw a soldier kick a boy in the stomach. After the policemen left him, I approached the kid. He was so scared that he'd pissed his pants."
Last week, a group of senior British lawyers accused the Israeli military authorities of regularly breaching the UN Convention on the Rights of the Child (UNCRC) and the 4th Geneva Convention when detaining Palestinian children in the West Bank.