Saudi succession raises economic challenges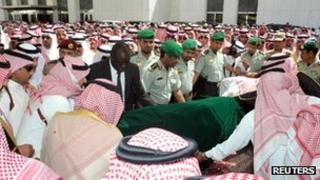 When Saudis last week mourned the death of their Crown Prince Nayef bin Abdul Aziz al-Saud, the country's stock market reflected the subdued mood.
The news briefly pushed the Tadawul Share Index - the largest in the Gulf - to its lowest level since January.
But the drop was short-lived, and with the mourning period now over, stocks have begun to recover.
In a widely-expected nomination, Prince Salman was named as the new heir to the throne, and markets took that as a cue that there would not be any big succession changes in the near future.
Saudi Arabia is the world's biggest oil exporter and the region's biggest economy.
With a population of more than 27m, it dwarfs all of its smaller neighbours and so what happens in Saudi Arabia has an impact on the wider Gulf as a whole.
The lack of change at the top is being seen as both a good and bad thing for the country.
Ageing leadership
In a region that has seen a great deal of political turmoil in the past 18 months, uncertainty has made it hard to attract foreign investment.
But that there have now been two Crown Princes nominated in less than a year highlights another concern closer to home - Saudi's ageing leadership.
King Abdullah is 87 years old; Crown Prince Salman is in his late 70s.
It seems he is in good health, but experts are still concerned about what will happen in the coming years.
"Saudi Arabia right now is looking a lot like the Soviet Union did at the end of its empire in terms of ageing leadership and switching leaders quickly because of sudden deaths," says Dr Theodore Karasik, Research Director at the Institute for Near East and Gulf Military Analysis.
"What we need to look at is where Saudi succession is going.
"Right now the Saudis should be - and I believe they are - looking at second generation contenders who could become number three in the Kingdom."
Such a move could also help ensure the smooth running of Saudi Arabia's economy.
The country has continued to expand in the past few years, despite global challenges.
Last year, Saudi Arabia saw its fastest rate of growth in eight years - nearly seven percent.
Ironically, this growth has been enabled by higher oil prices as a result of regional unrest, and the cash generated from oil has been used by leaders to spend on its own turf and stop unrest from spreading to the Kingdom.
'Art of survival'
In 2011 government spending rose by nearly a quarter as the King unveiled a plan to help create jobs and build houses.
Some say this paying off of its people, rather than proactive political reform, has so far benefited the country.
"If that spending continues and we see that kind of growth and the building infrastructure continuing, I don't think the investment community are going to be very unhappy with what's happening," says Mohammed Ali Yasin, an independent capital markets specialist.
"On the contrary, I think we may see a continuity of the prospering of that market.
"I think it'll have a positive effect on the equities market and attracting foreign investors into Saudi Arabia."
But Saudi Arabia still faces some big challenges at home. Unemployment remains high, especially among young people - some estimate youth unemployment is as high as 40%.
With oil prices slipping from their highs, and of course wider global economic concerns, is Saudi Arabia in a good position?
"I don't think anybody should underestimate the vast resources available at the Saudi's command at this moment to face up to the challenges and to the changes around it," says Dr AbdulKhaleq Abdulla, a professor of Political Science at the UAE University.
"They are well-versed in the art of survival, there's absolutely no doubt that they will weather this one too."