Egypt elections: Shafiq confident of victory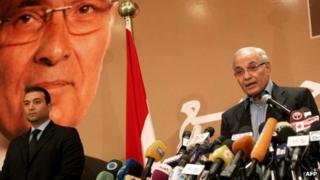 Egypt's ex-PM Ahmed Shafiq has said he is confident of a legitimate victory, in his first news conference since last weekend's presidential run-off vote.
He accused rival Mohammed Mursi's Muslim Brotherhood of "playing games" to pressurise the electoral authorities before the result was declared.
The election commission has delayed announcing the result to consider complaints from both candidates.
Mr Mursi himself declared victory on Monday not long after the polls closed.
Mr Shafiq's campaign team adamantly rejected his claim, pledging to take legal action to prove their case.
But until now, the man who was President Hosni Mubarak's last prime minister had refrained from speaking out about the election.
Meanwhile, 84-year-old Mubarak remains in critical condition at an army hospital in Cairo.
He is said to have had a series of strokes and to be on a life-support machine, but there has been no official word on his condition.
Earlier this month, Mubarak was sentenced to life in prison for his role in the death of protesters during last year's revolution.
Correspondents say there are fears that Mubarak's failing health could be used as a distraction as Egypt awaits the result of the hotly disputed election.
Mass rally call
Speaking to reporters in Cairo, Mr Shafiq criticised the protests involving tens of thousands of Brotherhood supporters in the capital's Tahrir Square.
"The demonstrations in squares and campaigns of intimidation, which aim to exert pressure on the HPEC (Higher Presidential Election Commission), are rejected by most Egyptians and contradict the basics of democracy. Let us calm down," he said.
The large demonstrations, called by the Brotherhood, came after the ruling Supreme Council of the Armed Forces (Scaf) gave itself sweeping control over the budget and of drafting Egypt's new constitution, after a court ruled that parliament should be dissolved.
The Scaf's moves were widely condemned by activists as amounting to a military coup.
The run-off election result had been due on Thursday but the HPEC postponed the announcement, possibly until the weekend, because it said some 400 election complaints had to be investigated.
Thousands of people are continuing their protest in Tahrir Square, and the Muslim Brotherhood has called for mass demonstrations on Friday against what it sees as an attempt by the military to seize power.
Three Islamist parties have said they will be involved and other revolutionary and youth groups have indicated they too will take part in the protest which has been dubbed: "No to military coup."
Marches on the square are expected to begin some time after Friday prayers.