Bahrain 'protest boy' Ali Hasan freed from prison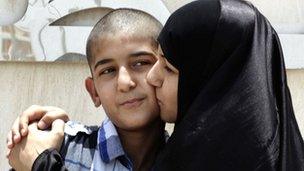 An 11-year-old Bahraini boy jailed for taking part in an anti-government protest has been set free.
Ali Hasan was allowed to go home, but he was ordered to appear in court again on 20 June to face charges including joining an illegal gathering.
He had spent a month behind bars after being arrested on 14 May outside the capital, Manama.
Protests have been taking place since February 2011 in Bahrain, and it is claimed more than 50 people have died.
Ali Hasan was allowed to take his final school exams while in prison.
The AFP news agency quoted Noura Al-Khalifa, Bahrain's chief prosecutor for juveniles, as saying the boy was arrested while blocking a street with rubbish containers and wood planks.
She said he claimed he and his friends were paid by somebody for the task.
An unnamed lawyer was quoted by the news agency as saying the release was granted to allow time to review a report on the boy prepared by a social worker.